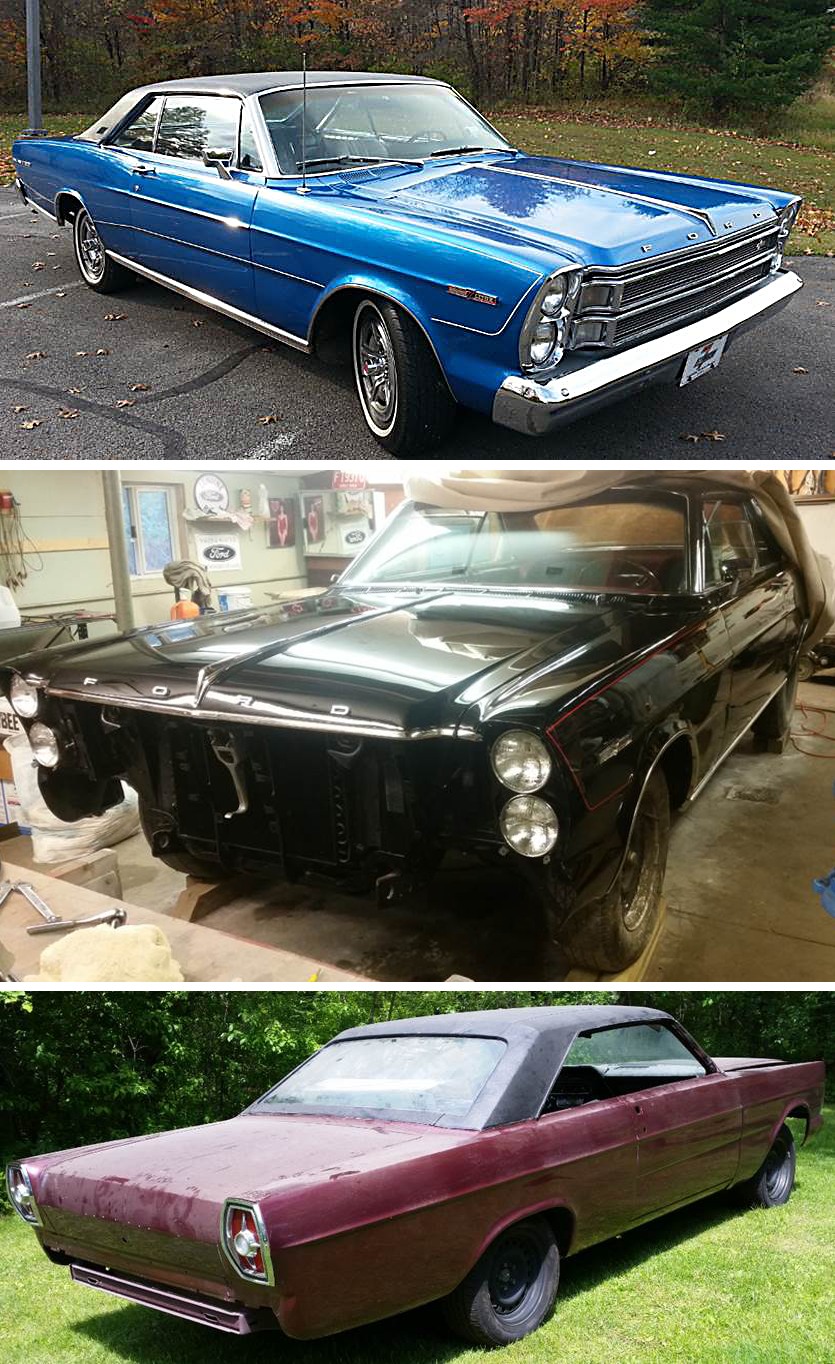 Here are three of my six classic Ford's. First is the fully functional car that I presently use for my cruising. It is a '66 Ford Galaxie 7 Litre hardtop. This is a 4 speed, one of 1700 made. I purchased this from my late friend in Michigan, who had restored the car in the early 00s. When I got it, the engine would overheat and not run very well. Found quite a few mistakes in it, so I rebuilt it correctly and changed the 4-speed toploader from a close ratio to wide ratio. The paint was applied in Michigan; it is a 2004 Dodge Electric Blue.
Second is another 66 Ford Galaxie 7Litre. This one is also a hardtop, and has a C6 automatic. This car is the highest optioned 7 Litre known to exist in the 7 Litre registry at www.7litre.org. I have been working on this car for a few years; I built a rotisserie to work on the body and frame separate. All work on the car I did myself except for engine machining and transmission rebuild. I am presently finishing up the electrical systems (built all new harnesses myself – not using aftermarket sources). Paint is PPG 9700 black with SPI clear coat, flow coated 5 layers.
Last is what will be my next project. She is a 65 Ford Galaxie XL R code, which is a factory 427 car. One of 320 full sized Fords built with 427s, the count for XL version is unknown. It is one of 2 in the Galaxie 427 registry. This car had the body done and painted, but will need to be redone as the paint is cracking in spots. The car has the original 427, dual quad with Top loader 4-speed. Hopefully, I can start actual work on her sometime this year (after the 66 is done).
-Tom Volpone
Want to share your own ride with us? Send a photo and your story to MemberRides@ClassicCarRestorationClub.com.