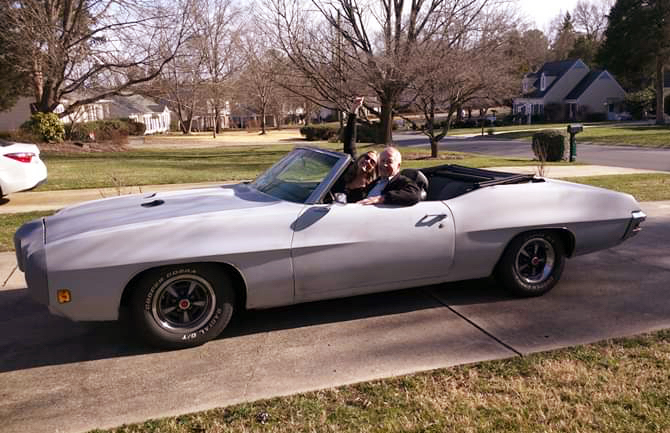 I have owned this 1970 Pontiac GTO convertible for 18 months now. It is mostly stock original, with numbers matching 400 cubic inch, 4bbl engine, and automatic transmission.
It was originally a Connecticut car until a friend bought it in 1994; it was then stored in a dry barn in North Carolina until I purchased it. I had been looking for a manual transmission GTO but changed my mind when I saw this GTO ragtop, and knew they were relatively low production numbers, making it a sound investment.
My little brother does mild restorations, and even though he is physically challenged and works out of a wheel chair, his work is always first rate. He straightened the body, as the primary rust was a fender patch in lower corner and in the rear fender wells. There was very mild rust in the trunk that was also patched with new steel. In addition to being a great body man my little brother also helped completely reseal the motor in November od 2018.
I will be painting it the original palladium silver this summer. I'll keep you up-to-date on progress. I have progressively increased my insurance coverage as restoration progressed. So far I have driven the GTO about 1,000 miles locally, and it has nearly 88K miles on the odometer now.
Larry Egerton
North Carolina