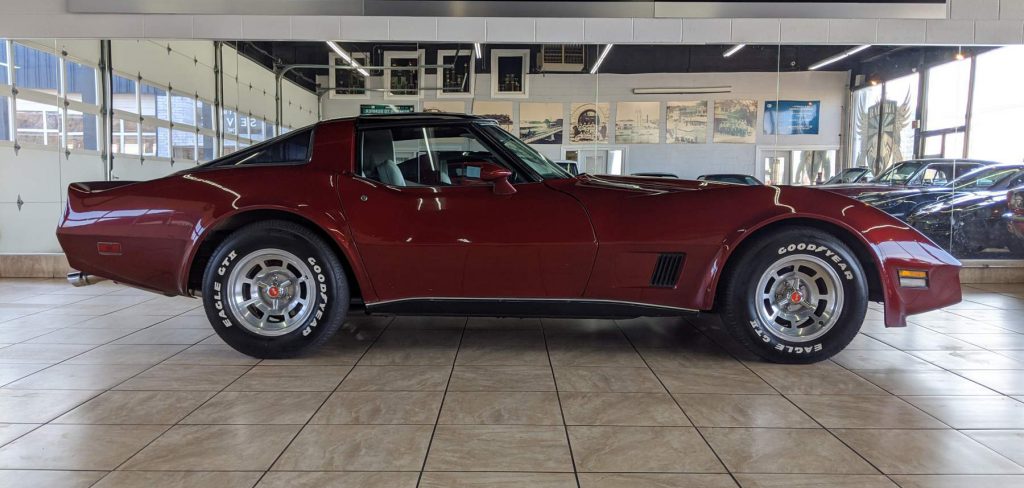 I am a retired 100% disabled (PTSD, Depression, Spinal Surgery) Air Force Master Sergeant. I retired with 22 years on active duty (4 Gulf War tours) and did 13 more years as a DOD Air Force Civil Service employee. It was then that the DOD told me I had to retire due to my PTSD and my injuries. After years of raising my family and 30 years of marriage I decided on June 15, 2020 at 60 years old to purchase a 1980 Corvette. I got it from a dealership in St. Charles, IL who sold it to me on consignment, as is, no warranty. I was completely amicable to the deal and even agreed to have their mechanic look the car over for me and was told the car was in good working order.
Well here is where I started making bad decisions, at least to me. Well maybe the first was getting a 1980 Corvette (ha ha ha), second maybe was to have their mechanic check the car, third was when I decided to drive the car back home to Myrtle Beach, SC. Yeah, over 950 miles in a 1980 Vette that was mechanically suspect, boy was that a dumba#* decision. Well I went 75 miles, made three stops and after the third stop I was southbound on I65 in Indiana @ 60 mph and BLAM! The radiator blew a hole in it, the temp gauge wasn't working, the head gaskets blew, one of the heads cracked (heads either from 305 or 307 but casting marks must have never been checked don't match block is a 350 crate motor).
Anyway, now I am stuck in Indiana and $1400 later in hotel and car repairs my daughter (Lauren), her fiancé (Brett), and his Dad (Kent) had to come get me. So, if you can get a picture me I have been alone for a week, embarrassed, ashamed and at my wits end and now this…WOW! So on the way to Nashville, TN where my daughter lives and where the car is now Brett and his Dad drop the bomb that they want to fix the car free labor I just buy parts. I immediately refuse saying to myself how can I have my daughter's future in-laws fix my car and ever live that down. But wait, they continue to insist saying "Tom, we want to do this for you because we care about you and like you." Not and exact quote, but man I got all choked up and said well okay I guess. What else could I say or look like a complete ass. My daughters and wife keep telling me I deserve it because I help others and I told them that isn't how it works you don't help people waiting for your turn.
Anyway you are probably wondering why in the hell is this crazy dude not taking this offer and shutting up. Well here it is, I am into this car for close to $14500 + and I am not a rich man. My wife and I live on a fixed income and I saved awhile to by this car and still had to finance it. Brett and his Dad worked on the car putting in over 60 hours worth over work. Remember I am in SC now and I don't have the funds to go to TN to help them. They end up finding LT1 heads from Brett's Uncle. Brett's Grandpa who happens to be quite the old school mechanic and millwright, mills the heads for me and checks them out to make sure they are good to go. Now they have the heads on, intake, carb, the whole works, they get my car running again. Once they are finished they have not only repaired the upper have of my motor and flushed the lower half. They fixed the temperature gauge with a new sending unit, fixed the horn, fixed the electric windows, set the timing, changed the plugs, oil, coolant, filters, and washed the car. I thought the final bill was going to be a couple grand which I did not have, but to my utter amazement Brett tells me I only owe him, his Dad, his Grandpa, and his Uncle for parts and everything, get this $397.00. I nearly fell out of my chair. I told Brett no way he had to be joking, they must have miscalculated or something. He said nope that was it and he and Lauren would be coming on vacation in a couple weeks to see us so we could pay him then or whenever. I was on the phone with Brett when this happened and when I hung up I literally sat down and cried. Then I told my wife and she couldn't believe it either. I am a very lucky man and I'm have now arranged to have the car shipped for a very reasonable price back to my house so I can try to take over.
There is still going to be work needed on the car. Complete vacuum hose replacement, engine electrical is a mess and needs to be redone, Brakes checked, suspension gone over, transmission tune-up, check rear end, interior redone and paint. This car was not supposed to be a complete restoration but well I guess it turned into one. Believe me, I am not in a mid-life crisis; I grew up with a Dad who built his own racecars (sprint cars). I idolized him he had a natural aptitude for mechanics in that he could fix nearly anything. I didn't inherit his aptitude for mechanics, I try I can think the diagnostics thru but the repairs don't make it into my hands somehow, I don't get it. I have always loved cars and he always had something that went fast. He took me to races and car shows and I loved the sleek and sexy cars and fell in love with Corvettes at a young age. So anyway I have always wanted a Corvette I just ended up with a car that needs more help than I can manage. So I will be asking for help along the way.
Thanks for reading. This is a picture of the car from the dealership. Please believe me the paint job needs help it has runs in it and a lot of chips and scratches.
Tom Lancto