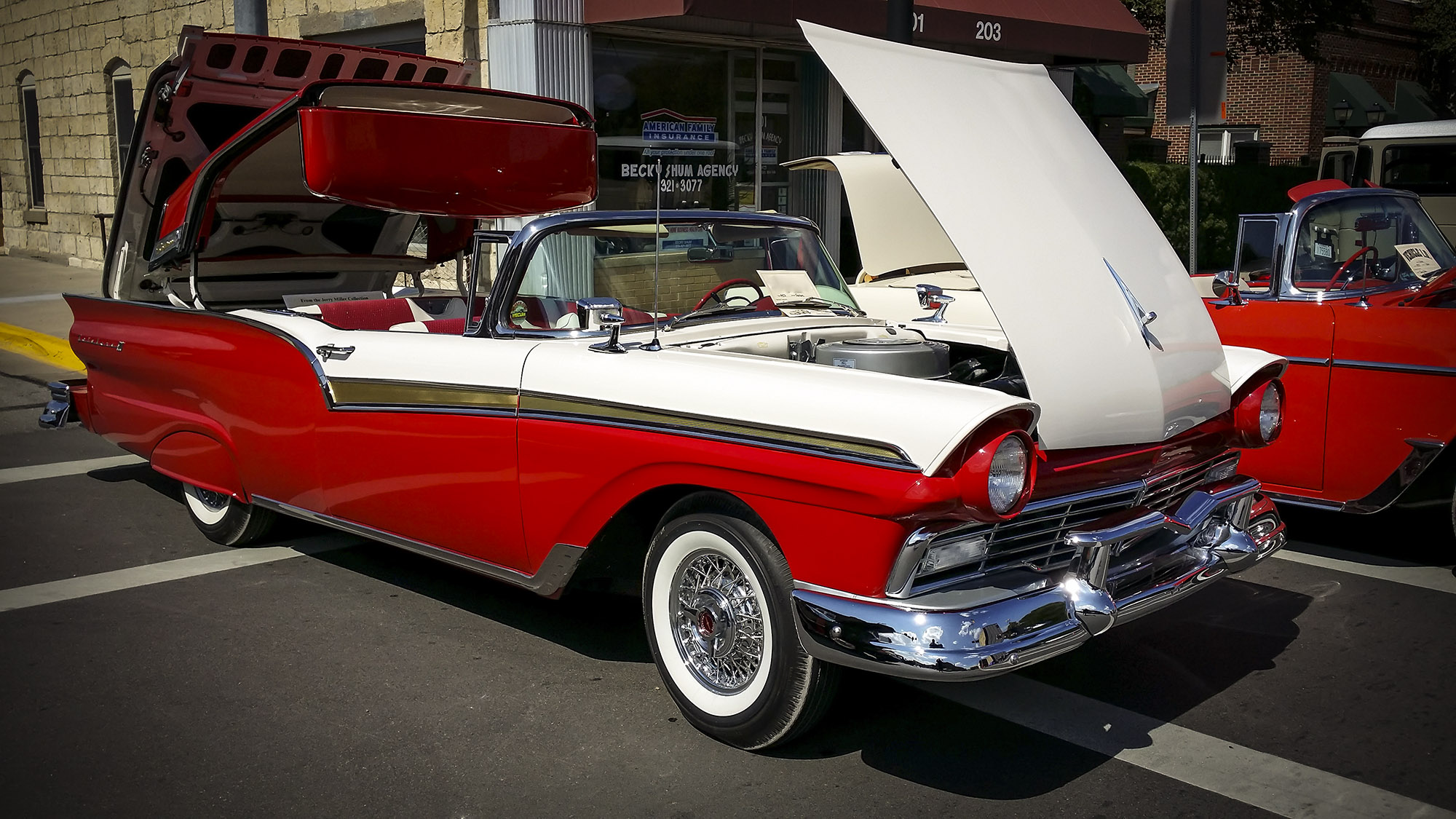 Q.
I just purchased a 1957 Ford Skyliner and have questions about correct gas and oil uses. It is un-restored and looks like it just rolled off the assembly line in Kansas City where it was built minus the 60 year old normal where and tear because it was not in a museum. My question is about gas and oil. It has the 312C.I. Thunderbird Special engine. The seller bought it and a 1968 Chrysler 300 from his mechanics neighbor, whose husband passed away. He said he has been using unleaded gas for the short time he has owned it. Is that recommended or is there an additive to be used? Also what kind of oil should be used for it?
A.
Gas and oil are certainly two topics that can start a lively conversation amongst car enthusiasts. Let's take a look at gasoline first.
Tetraethyl lead was originally added to gasoline to cheaply boost the octane levels as opposed to further refining although in high-performance applications it also served as a buffer against micro-welds forming between the hot exhaust valves and their valve seats. Without the lead these micro-welds occur when the valves are closed, when these valves reopen the micro-welds pull apart and leave the valves with a rough surface that abrade the valve seats, leading to valve recession. When lead was phased out of motor fuel, the automotive industry began specifying hardened valve seats and upgraded exhaust valve materials to prevent valve recession without lead. If you drive a vehicle conservatively that doesn't have hardened seats and valves you will likely not have any problems, however if you sometimes use your car for performance driving (drag strip, road course etc…) you should consider gasoline additives or having stainless exhaust valves and even hardened seats installed in your heads. There are a number of lead substitute additives on the market, and while I don't believe they're necessary for non-performance driving, they do give many classic car enthusiasts a degree of "peace of mind".
Perhaps a bigger concern with modern fuels and classic cars is ethanol. The alcohol in modern fuels does cause it to burn cleaner it can be detrimental to older fuel systems. Vintage carb seals, fuel pumps, o-rings, fuel lines, fuel filter and fuel level floats can all be damaged by ethanol. Most states allow distribution of non-oxygenated fuels for classic cars, ask around to locate a service station that carries it near you.
Most standard "off the shelf" oils at the local auto parts stores are not good choices for your classic car. Modern oils lack sufficient zinc (zinc dialkyldithiophosphate) to properly lubricate flat tappet cams and lifters, especially during startup. The zinc was removed from modern oils as it caused carbon to build up in the exhaust system causing catalytic converters to prematurely fail. You have a couple of options, either use oil specifically blended for use with classic cars that still contains zinc or adding a zinc additive to modern oils. Which one is best? That's an argument I don't want to get into but here are a few options to consider:
Oils: Lucas Hot Rod & Classic Car Oil, Valvoline VR1 Racing , Amsoil Z-Rod, Brad Penn 'Penn-Grade 1', Royal Purple HPS, Shell Rotella Diesel Oil
Additives: Cam-Shield, ZddPlus, Edelbrock High Performance Zinc Additive, Eastwood ZDDP
I am sure there are dozens I left off this short list, but I'll post this reply on the site and am certain we'll hear from fellow members their thoughts as well.
Wrench Safe,
Mark
49

Responses to "Classic Car Gas and Oils"