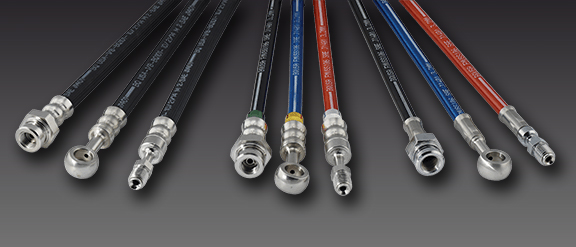 Often car enthusiasts are faced with trying to replicate the OE brake hose assembly. The most common solution is to use adapters on a "universal" #3 JIC brake hose. This approach is cumbersome, looks unprofessional, and introduces unnecessary leak points. BrakeQuip has developed an innovative solution for brake plumbing challenges that are encountered when modifying, restoring, or building custom vehicles. With a custom BrakeQuip hose, there's no settling for anything less than OE quality. Ensure that you'll have exactly what you need.
BrakeQuip provides
Hundreds of OE-style loose fittings
Bulk DOT-compliant rubber and 5 colors of stainless steel brake hose
Any desired brake hose length, crimped with the right fittings for a perfect OE fit
Every brake hose assembly is pressure tested to 3,000 psi
To find an authorized BrakeQuip dealer near you, visit www.brakequip.com/find-a-dealer. Now you can have the exact brake hoses you need for your next project build.