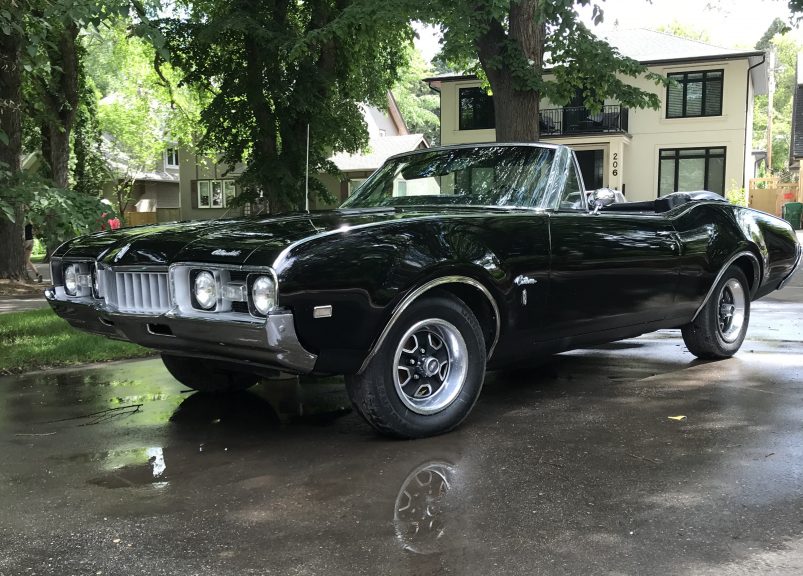 When I was much younger and having just finished University, I bought a 1968 Cutlass S 2-door hardtop. Unfortunately, there was an accident and the old gal was the worse for wear. Fast forward 50 years and I decided I wanted to restore one. I was able to find a 68 S Convertible and was told it was original, numbers matching, and no accidents. So I paid the premium for a pristine car with 86,000 miles on it that had been stored for 20 years (not the 30) I was told.
Well, we discovered that it had been in three accidents, the color was changed from Jade Gold to Black, the engine and transmission were switched (both upgrades however) but originality and numbers left the building.
It wasn't a collector car but it was in very good condition – floors, engine and tranny were excellent. It was a "want" from when I was 23 until 2017. Body off, new everything, cloth top and glass window. We made an electric choke Quadrajet out of two and put in an HEI distributor. The performance went way up as did the fuel economy.
I finally decided to replace the quarters and patch the fenders and repaint it Black Cherry. I picked it up three days ago and still have to sneak out and have a look at the color changing. It is a "correct car" as all the options were available in 1968. If someone wants to go back to original correct without the HEI, tilt wheel, or stereo, I have all the original pieces. It isn't a collector but it sure snaps the heads around and gets the thumbs up!
Greg Broadbent