ESAB Welding and Cutting announced its new Rebel 235ic Series of welding machines, offering industrial multi-process performance in a portable, integrated package. With two models to choose from, Rebel EMP 235ic for MIG/Stick/TIG and Rebel EM 235ic for MIG-only, Rebel 235ic is the most mobile welder in its class and has the power and performance to handle the most demanding jobs. Available in early 2017.
Unmatched Portability and Multi-process Performance
At 53 lbs. and with a 235-amp rated output at 40% duty cycle (maximum output is 250 amps/30 volts), Rebel 235ic has the best power-to-weight ratio in its category, allowing users who need maximum flexibility when moving a welding machine around the shop or working in the field. The machine automatically detects the correct single-phase input power from 90 to 270V. Rebel 235ic comes wired with a 230V plug; users simply need to attach the supplied power adapter to connect to 120V power. Rebel 235ic holds 4, 8 or 12 in. wire spools, features dual gas ports with solenoid valves and has optional single- and dual-cylinder carts, remote amperage controls and spool guns for MIG aluminum.
"Customers told us they wanted a more powerful Rebel without sacrificing arc performance, portability and primary power flexibility. Rebel 235 delivers on that promise," says Doug Smith, Product Business Manager – Arc Equipment, ESAB.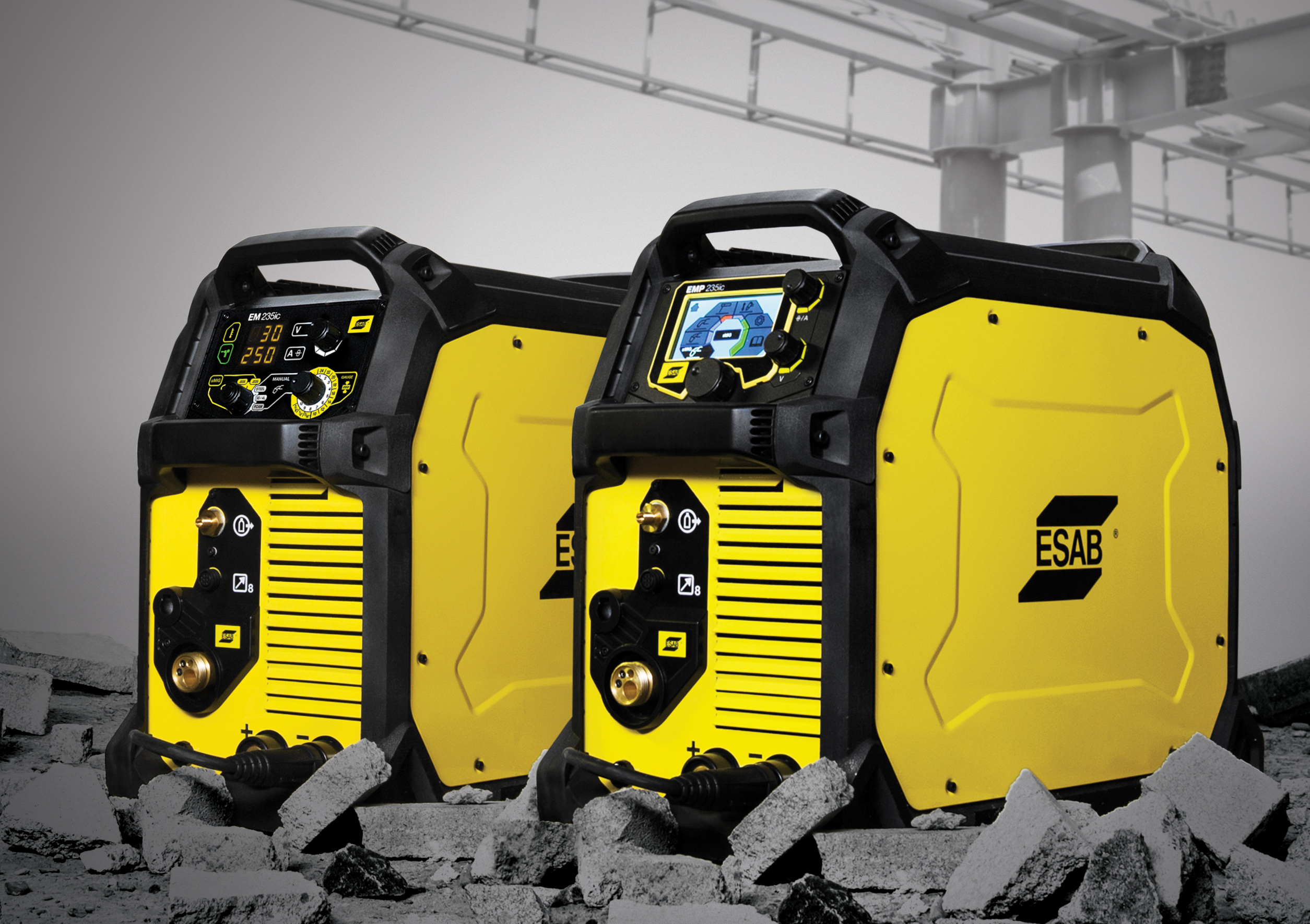 Smith notes that traditional welders units in the 200-to-250-amp category are typically single-process MIG machines that weigh about 200 lbs. Users can move these machines around the shop with built-in wheels, but occasionally require a mechanical hoist to get in tight, hard-to-reach areas, resulting in excessive down time. With Rebel 235ic, ESAB is redefining this class of welders, one that is truly portable, powerful and multiprocess.
"Fabricators can use a cart to help organize Rebel 235ic in the shop, but they can also detach Rebel 235 to tackle any job, anywhere in shop or out in the field," says Smith. Four handles enable easy lifting and positioning of the unit.
Rebel EMP 235ic and Rebel EM 235ic both feature ESAB's exclusive sMIG (smart MIG) technology that enable users to begin MIG welding – with an extremely stable arc – just by setting metal thickness and wire diameter. The EM model features conventional controls for voltage and amperage, while the EMP model features an advanced TFT/LCD color display. The display helps users access operating instructions, an owner's manual, a parts list and enables switching between two operating modes; Basic Mode to simplify operation or an Advanced Mode adds a full-suite of professional-grade arc controls.
Designed Around the Electrode
Rather than designing Rebel 235 around an arbitrary output number, ESAB designed the unit around the electrodes most commonly used by light industrial shops, mobile fabricators, farmers, schools and maintenance facilities.
"Our goal with Rebel 2352ic was let operators weld a wide range of applications and metal thicknesses from 22 gauge to 1/2 in.," says Smith. "Most importantly, Rebel 235ic covers the full range of .035 in. wires in both short arc and spray arc transfer. It handles .023 and .030 solid wires beautifully for thin-gauge work. For thicker material, it also welds with .045 solid wires and .030 to .052 self-shielded and gas shielded cored wires." In addition, the multiprocess Rebel EMP 235ic handles Stick rods up to 5/32 in. and TIG rods up to 3/16 in. "Rebel 235ic's Flux-Cored capability will appeal to steel fabricators who want to use products such as ESAB's Dual Shield wires," adds Smith. "ESAB Dual Shield wires have excellent all-position capabilities, high deposition rates and excellent bead appearance, along with traditional gas-shielded cored wire benefits."
For more information, visit www.esab.com or call 1-800-ESAB-123.