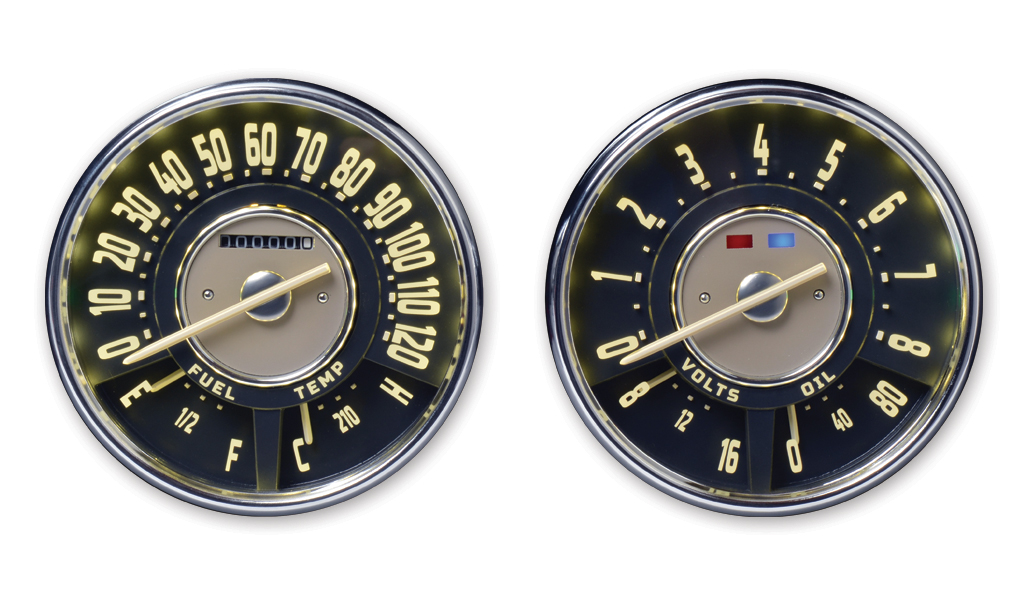 If you like the look of the instruments Chevrolet used from 1947 to 1954 in their pickup trucks then you're going to fall in love these all new, updated and upgraded direct replacements manufactured by CON2R in Beaverton, OR. From the typeface to the embossed background textures, these instruments demonstrate how "factory stock" was elevated to meet their "SuperStock" standards.
Rather than duplicate the factory layout of "one and four" gauges, CON2R gave the speedometer and tachometer equal importance and balanced the four auxiliary gauges in a "two by two" configuration. The textures, windows and raised lettering of the originals have been carried through to create a seamless transition from the old to the new gauge layout. Behind the original looking faces are electronic stepper motors that drive the needles with the highest possible level of accuracy and dependability.
When the sun goes down, the instruments light up using CON2R's unique and exclusive "halo" LED system that provides even, glare-free illumination across all the gauge faces. Parking brake, high beam and turn signal lights are all integrated into the design.
Grey and tan color schemes are standard but special colors are available as are 120, 140 and 160 mph speedometer markings. This look is both new and retro and without a doubt, the styling places them directly in the middle of the CON2R Old Skool Zone. Additional information on these instruments and others being developed by CON2R can be found online at
www.con2r.com
.
16

Responses to "Instrument Sets for 1947-54 Chevrolet Pickups"