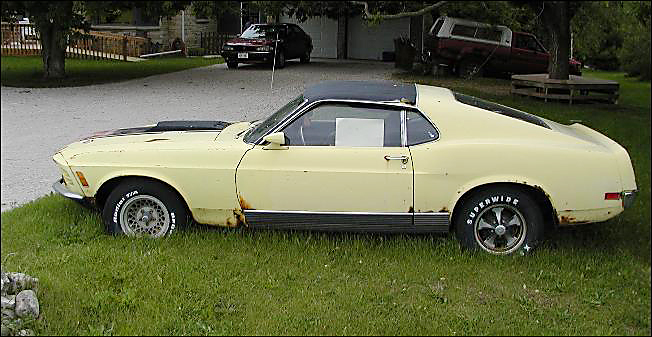 When I moved to the states (again), I set my heart on owning a classic car. The only way I could afford one was to buy a fairly sorry story and do it up myself. I always like 1969/1970 mustangs and saw one for sale in Wisconsin for not a lot of money which was right in the ballpark of what I wanted to spend. I put in a bid and won. Arranged shipping and waited.
While I was holed up waiting for the car to arrive I found out that it had been featured on cars in barns on the Internet. It is still there to this day under the Ford section. First page bottom left is the yellow 1970 Mach 1 Mustang that pulled up on the back of the trailer.
After some issues unloading (I didn't know about the key locking out the manual transmission) we got it unloaded and I did a walk around. It was in a pretty sorry state. Frame rails were folding, engine was pulling the fenders in, holes in the floors, vinyl roof was peeling and I didn't know what was underneath.
I pulled the engine to take a closer look and found the air cleaner had been left off when it had been parked. Judging by the plates it had been parked at least 15 years ago at this point. The engine was seized and on tear down, I could see why. One piston was having a bath from the water coming in.
Over the next ten years I have slowly chipped away at it. I have moved continents and taken the car with me. Somewhere along the way I decided it was going to be a circuit racer so installed a roll cage. I've rebuilt the engine and toploader. I've had to replace a large percentage of the bodywork. Basically everything from the floors forwards and backward.
I am currently wiring the car up ready for the first start in decades. Life got in the way at certain points but I've always come back to my 1970 Mach 1 Mustang.
Martyn Jones