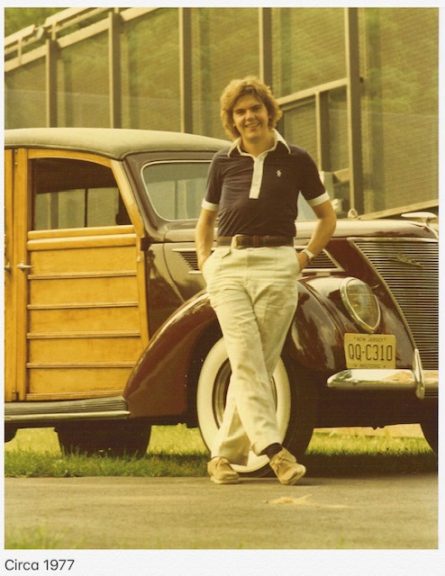 From adolescence and Social Studies to Social Security and Social Media this 1937 Ford Model 78 Deluxe Station Wagon "Woody" has been part of my life!
My family and I lived in a small NJ town in Bergen County called Ho-Ho-Kus. My Dad was into early model 85 HP Flathead* Ford V-8's. His '34 Woody and '36 Cabriolet were my favorites and with a pillow on the seat I learned to double clutch at age 10. The throttle pedal on the '34 was a challenge until I got older so the '36 were always my choice. And it was beautiful- Washington Blue with less than 40K miles on the clock, it was 100% original, my Dad would have it no other way!
In the fall of 1968 Dad split when I was 14 years old; and with his departure so went the '36 and the '34. I was acting out and not in a good way. Willie Menduno, a family friend, local cop and car trader suggested an idea to my mom, which she quickly latched to. They figured an early model V8 Ford would get my focus on the right track. He found a '37 Woody in Colts Neck, NJ where it served as a utility vehicle on a farm. Narrowly missing a hot rod conversion between owners the car was complete and solid needing only an interior, top, and a couple of pieces of wood. It had metallic burgundy paint, which we repainted to the original.
When I finally got my license (young for my grade) it became my ride to high school on sunny days. Along the way I'd pick up classmates, guys and girls. On the way back home there were usually different names and faces. The extra back seat accommodated a decent number for our posse. Facebook friends recall those great days at Ridgewood High School along with rides and detours made in the '37. Inevitably, when a high school acquaintance is "friended" the first question is, "Do you still have the Woody?"
There were late night runs over the NY Stateline where access to nightlife was easy. In sober reflection there were tragedies for certain as overpowered cars and impaired operators headed south after closing time. The operating limitations of the Woody were a blessing and it faithfully brought us home to safe harbor.
College at East Carolina University came in 1972 and the '37 stayed home in an extra garage, driven in summers between grades. After graduating I returned to NJ where I started a career in real estate. Soon after I bought a small farmhouse with a two-car garage, one stall for the Woody. I'd drive it on occasions but a busy life left it mostly idle. The car remained intact except for the spare tire cover, which somehow disappeared.
We moved to southeast Florida in the late 80's and of course the Woody came with the family. It needed some mechanical work, which mostly revolved around a mysterious coil issue precipitated by the extreme heat. Once solved, I drove it when it was cool and dry, which meant seldom in south Florida.
Around 2002 both the Woody and I were worn out. The painful loss of my younger brother left me empty and restless. I yearned for a life far from the palm trees and felt the '37 deserved a new home. I didn't have the money to restore it but knew someone who was talented in restoration. We made an agreement that I would donate the car, he would put in the time, sell the car at auction and we would split the proceeds.
Well, after disassembling the body and removing the doors, he died, in his shop: at his bench! At the same time I was facing a personal crisis and had all I could do to gather up the fragments of my life. Now, I had to collect the pieces of the Woody as well!
I located all but the door handles and latches, boxed everything up and locked the Woody away in a storage unit along with the youthful memories that went along with it.
In 2008 things were looking up for me and though considering selling it as a "project" I was soon committed to a full restoration. There was a good flathead engine guy in nearby Lantana, Fl. who did his part to get the project underway. Then my brother Bill in New Jersey indicated his interest in a winter project. Hmmm, I was waiting to hear that.
Like most things in automotive restoration the rebirth of the Woody took longer than expected. Gladly though, there weren't many complications. That is, except for the handles and door latches! Bill and I double-teamed the search, avoiding many thieves along the way! Finally, we scored the handles; the latches and even the mount and two-piece spare tire cover! The cost of those parts exceeded the original cost of the car in the 60's but there was no way around the handle; the spare tire and cover assembly made the car complete.
Bill's meticulous attention to detail is evident on all parts of the car, seen and unseen. Also, with the dedication of talented paint and interior experts plus wood craftsman (holla back John Richie!) the Woody astounds restoration aficionados wherever it's displayed.
In the early summer of 2011 I went to NJ and drove the Woody with my brother Bill riding shotgun. It was a special time for us where we reflected on our lives and the cars that were a part of us. Bill wrecked most of his cars but I was lucky- if only the Woody could talk!
In October of that year, good fortune smiled upon me and with the girl and the life I had always dreamed of, Spruce Pine, NC became our last and final home. The Woody soon joined us for its last and final reunion!
The flathead loves to flex its torque, charging up these mountains with only an occasional downshift to second!
Adding new memories with an old friend and those you love is what makes life worth living and to that I say: Flatheads Forever!
PS The Woody and me- in 52 year's life deals a lot of laughter, tears, joy and sorrow. I lost my Dad, step Father, both brothers (Bill to a freak accident when working on a car). We've added daughters-in law and 5 grandchildren (all boys!) My mom's now 91 and that's a blessing for all of us!
Bobby Brewster