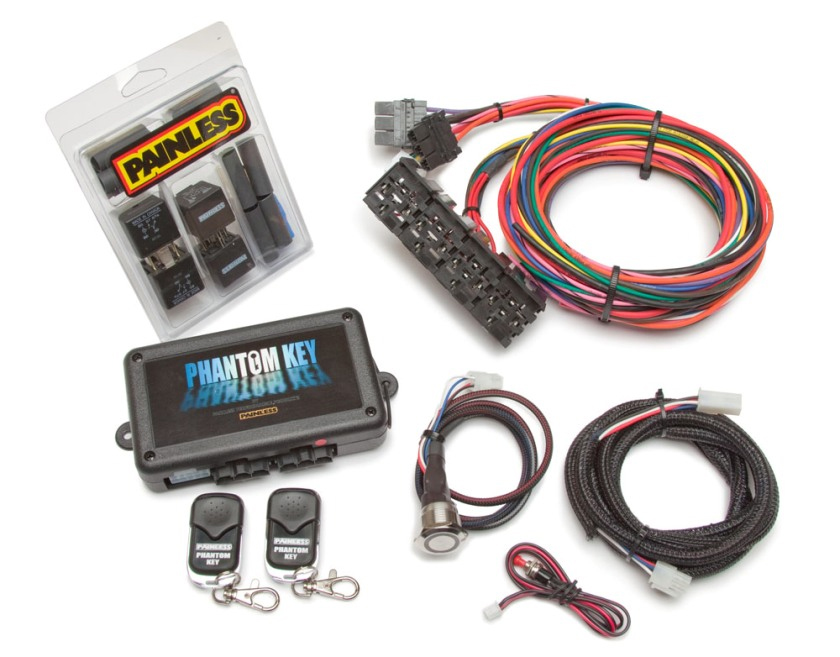 Want to add the cool new technology of keyless ignition to your old hot rod, muscle car or 4X4? Here's your best option for both added security and this new creature comfort from the automotive aftermarket world.
The Painless Phantom Key allows for the total replacement of most current ignition switches. Simply remove your existing ignition switch, install the backlit stainless pushbutton and allow the Phantom Key's Module/Relay center do all the work for you. Plus it adds options such as a trunk popper channel, door lock and unlock, dome light on and off along with the added security of not having any key tumblers for a thief to pick.
When you are more than 20 feet away from your vehicle, the LED backlit push button switch will blink showing there is a security device in the vehicle, warding off potential thieves. When you are within 20 feet of your vehicle, the blinking LED will turn solid. Push the unlock button on the key fob to unlock your doors, climb into the vehicle, push the brake pedal and finally push and hold stainless Phantom Key button to start the engine.
The key fobs have both lock and unlock buttons and can be programmed to be in what's called "automatic mode" which is where the system will automatically enable when the fob is within about 20 feet of the vehicle OR they can be programmed where the unlock key must be pushed to enable the system.
9

Responses to "Phantom Key Kit"