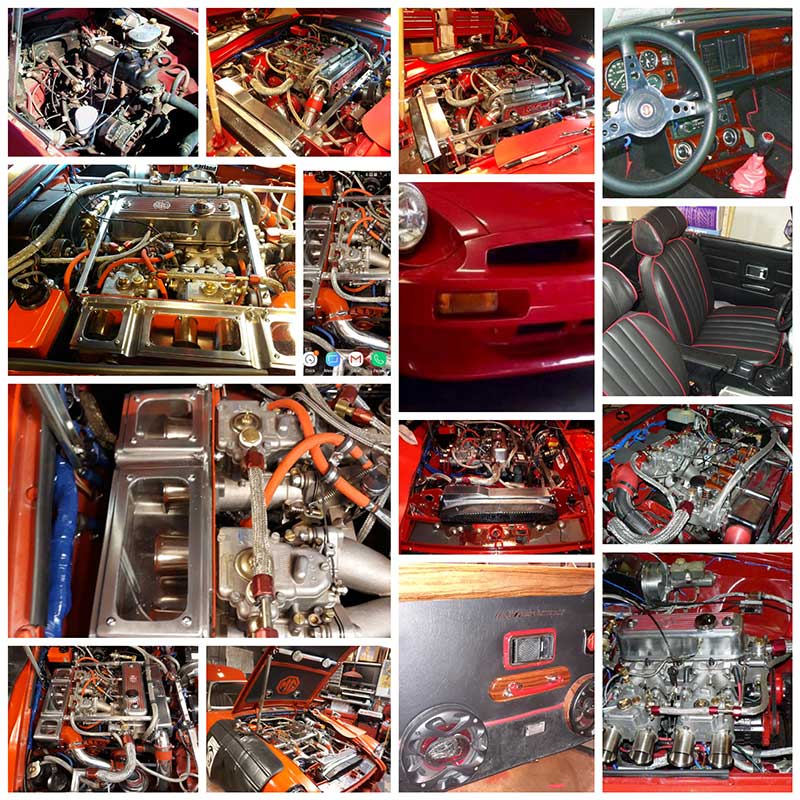 Here is my 1978 mg MGB British sports car that I have highly modified. This is a lovely automobile that is exceptionally fun to drive and a pleasure to work on.
The engine is all stage 2 racing spec, bored and balanced, 11:1 compression, with a cross-flow head, dual Weber DCOE 45 carburetors, a cold air intake system with dual K&N conical filters, a high lift / long dwell street-racing camshaft, a DUI integrated coil-distributor tuned by Performance Distributors to my camshaft specs, Live Wires low-resistance ignition wiring, racing plugs gapped at .055″, all racing spec engine internals tested at 190,000 PSI, dual-chain timing, vernier balancing, tuned air dam, major heat reduction systems, exhaust manifold cooling system, tuned exhaust system, and much more.
The transmission has been converted to a 4-speed overdrive unit.
The interior includes all new plush carpeting, custom upholstery, custom door panels, real Rosewood dash applique and door cappings, extensive additional electrical components, as well as an 8-speaker surround sound Bluetooth system.
The trunk has also been carpeted and the tool and detailing bags are color matched to the rest of the car.
It has been repainted Torch Red with four base coats and two clear coats. The front and rear bumpers, originally black, have been painted to match the rest of the automobile.
The suspension has been lowered 2″ to get it back to the original height of an MGB when they first came out in 1962. It has an all Prothane brand, polyurethane set of bushings and pads for the suspension system.
Other classic car restorations I've done include a 1968 Mustang, a NOS 1950 Ford, a mildly-modified 1950 Ford, a moderately- modified 1950 Ford, and minor modifications to a 1970 MGB. I'm starting a 1973 MGB restoration soon.
Barry Barnes
Nevada