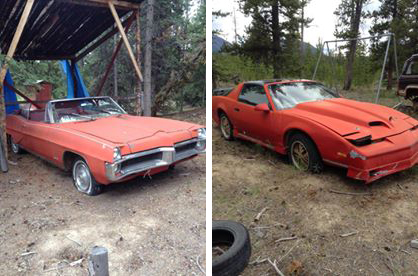 Q.
We moved into a property that has a couple of old cars that need restored, both Pontiacs, one is a Parisienne and one is a Trans Am. We know NOTHING about cars and wondered if you were able to help us find out how we could sell them and how much they were worth. All I know is one is a Parisienne and one a Trans Am? We have no idea on age, but I'll include some photos!
A.
Your situation is not all that uncommon, cars end up being left in the strangest of places. You could simply part them out on eBay or craigslist, or even sell them with a 'Bill of Sale' only and let the next owner worry about securing a title. BUT, The real problem is you need to determine if the cars can be sold at all, as you don't want to end up being charged with selling stolen property.
I would contact the local police department or your state highway patrol and have them run the plates and/or VIN number to determine if the cars are clear or if they are stolen or have a string of tickets (parking, used in crimes, etc.…) open against them. If they are stolen the police will take procession of them and you'll be in the clear. If their records come up empty you can try to locate the most recent owner through your state DMV to get a new title, or you can find out from your state DMV what you need to do to secure clean titles for both. Every state is different in how they issue new titles… some states are easy while others are next to impossible… know what you're getting into before you start, and compare that to the value of the cars.
What are the cars worth? The 1967 Pontiac Parisienne convertible is likely worth more than the 80's Trans Am, but it is difficult to give you a solid valuation based on a couple of low resolution photos and limited information. I would suggest reaching out to some knowledgeable local car enthusiasts and getting at least a couple of values from different sources before considering any offers to buy them.
Wrench Safe,
Mark