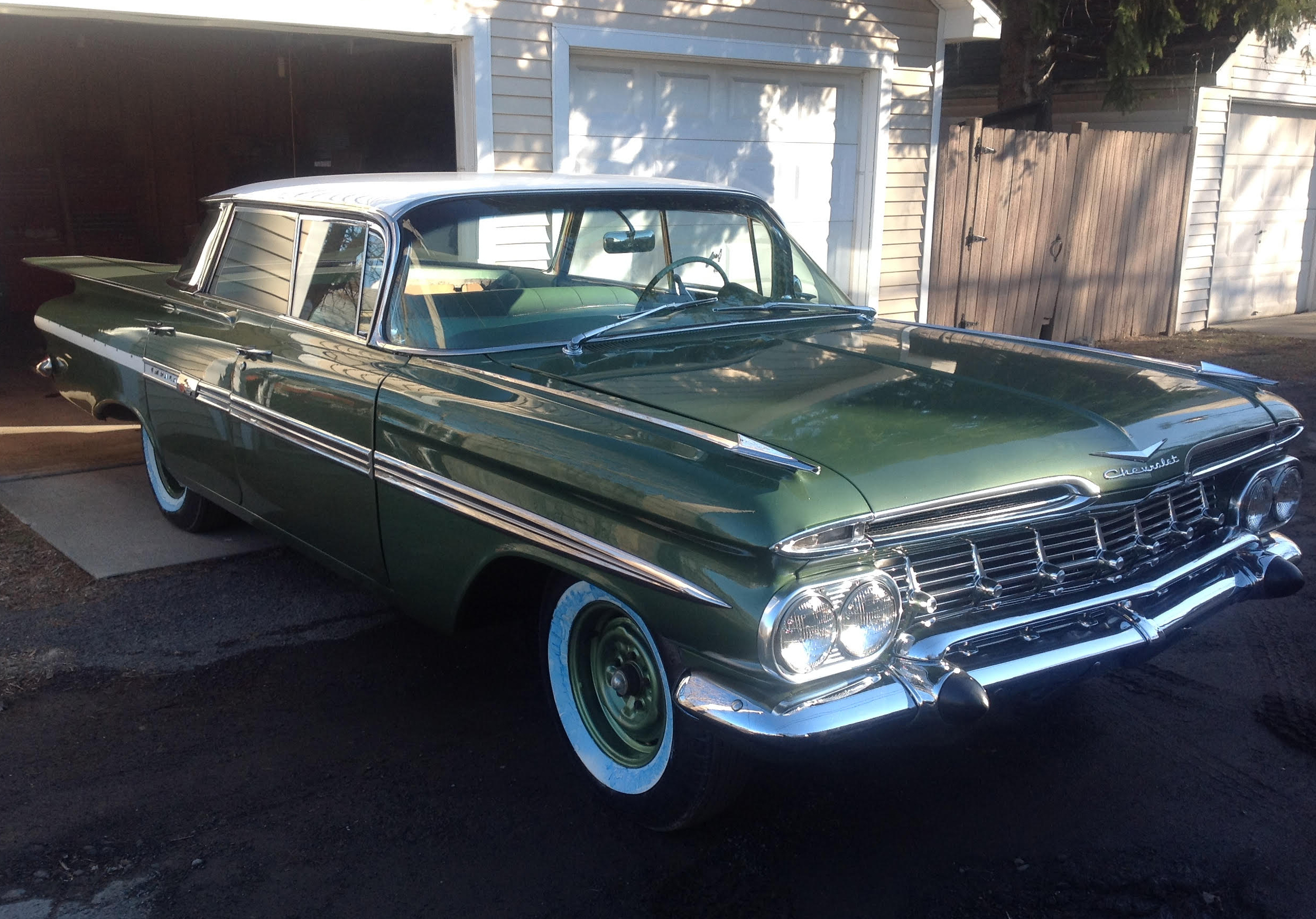 I am the proud owner of a 1959 Chevrolet Impala 4-door Sport Sedan. This car is 100% 1959 and has not been modified in any way. Any aftermarket parts are made to original manufacturers specifications. For example the interior is not the original interior however it is an exact match to the original interior as with the headliner. Parts that were replaced came from 1959 donor cars.
Made in Baltimore Maryland back in 1959. I don't know where and by whom It was first purchased. I do know that a man who's last name is McCormack owned it then It was sold to Mike Lusse then purchased by Bob Remillard in July of 1992. It hung around until about 2000 give or take a year then it was time to decide either to junk or restore it. So I decided to go ahead with the restoration.
I did as much as I could with the tools and equipment I had which was quite a lot. First the entire front end was disassembled and engine and transmission taken out. Then both were sent out for a complete rebuild of course the engine to engine technologies (which is no longer in business) and the transmission to a transmission shop.
Then I began to disassemble it right down to every nut, bolt and clip all the glass trim etc. There wasn't one piece of the car that was still together. All of those parts were boxed, labeled and numbered there were over 300 boxes of parts that took up an area about 12′ X8′ X 5′. The body and frame were then brought to the body shop where the body was taken off the frame secured on jacks and the frame went back to My garage where it was disassembled every piece nuts, bolts, bushings, including the A-arms, springs there was not one piece not taken off and restored or replaced, sandblasted cleaned and painted with POR15.
All new parts were ordered shocks, bushings, tie rods, brake and fuel lines, everything Was either restored or rebuilt including the rear end which I was glad I did because when I took it apart there was a broken spider gear inside so I ordered a new kit from yukon. Everything was reassembled and looked like new. In the meantime the body shop was restoring the body new floor pans, rockers and problems unforeseen. At the back window where it overhangs the glass the roof was not bad but under that the 2″ to 3″ piece was badly rusted. After searching the Internet which covered most of the U.S. I got lucky one was found just outside of Troy a very rare piece to find anywhere let alone locally.
Now that the main body was done pieces were put back on over the next 16 years the chrome parts sent to be rechromed, aluminum parts sent out to be re-anodized and I restored most of the stainless myself. Each piece put on was a part closer to being completed. Then it was off to the upholstery shop. Which I think did a spectacular job. I know it's not perfect but given this was and is my first and last restoration I don't think It looks to bad. There are still some minor bugs to fix and maintain but I am enjoying the ride.
The car was completed in July of 2016, It was finally registered with standard plates on July 28, 2016 and reregistered July 28, 2017 with the "1959" year of manufacture plates.
If by chance anyone has additional history on this car please let me know.
Robert Remillard