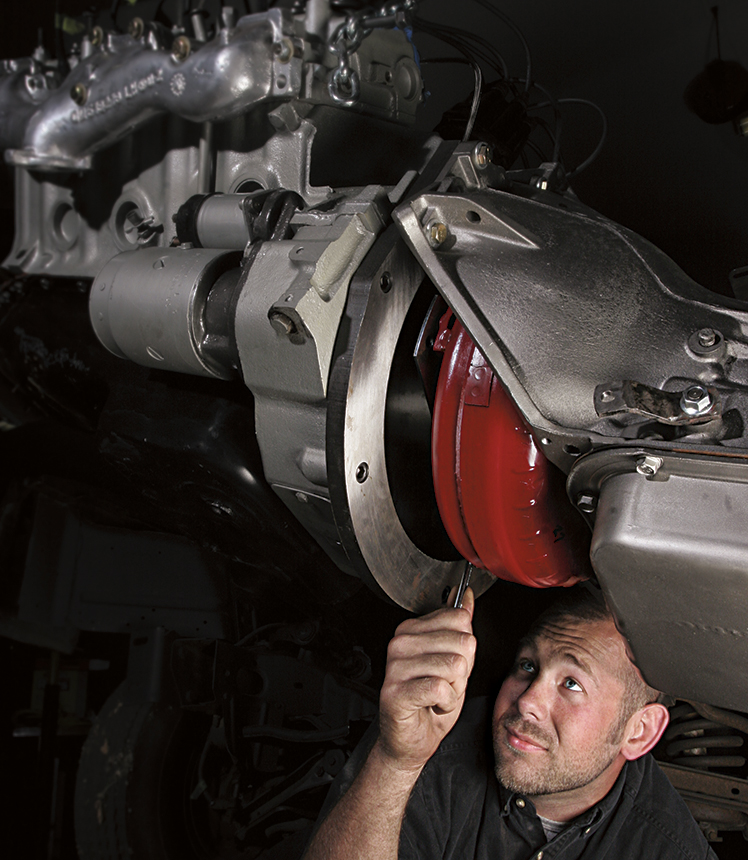 Q:
Can you tell me what would be involved in putting a turbo 400 trans behind a 1963 olds 394 cubic inch motor?
A:
Most '63 Oldsmobile 394ci engines were backed up by the Roto Hydramatic Transmission, a lightweight transmission also known as the "Slim Jim". Their problems included: a high-pressure design that made them prone to leaking, huge jumps between gear ranges, and were designed to use transmission fluids that contained whale oil, that are now banned today. Modern ATF fluids further degrade shift performance.
Making an upgrade to a TH400 transmission would certainly improve performance and reliability, although I would suggest going one step further and adding overdrive with the use of a 700r4 or 4L60 transmission. The original Slim Jim transmission is a relatively narrow transmission and upgrading to the TH400 may require some modifications to the transmission tunnel in your floor, A TH350 may be an easier fit and can be built to handle most anything you throw at it.
The next challenge is connecting the engine to the transmission. The 394 Olds engine has a deep skirt cast into the back of the block, making it difficult to join the two together. Fortunately our good friend Bob Bendtsen at Speed Gems (www.transmissionadapters.com) has us covered with a great adapter kit to make the connection. Having actually installed one in a '62 Oldsmobile, I can tell you it is a great kit and certainly got the job done. However, this entire conversion process is not a simple bolt in process and we'll get into that next.
The next BIG hurdle to jump, is motor mounts… while you never mentioned the model of car your 394 called home. The 394 uses a center mount front motor mount and two mounts at the back of the engine to hold the engine from moving from side-to-side. Unfortunately the rear motor mounts cannot be used after the transmission conversion and new rear motor mounts will need to be fabricated. Additionally the transmission will require a rear mount on the tail shaft and a removable cross-member will need to be fabricated and installed. From my experience, this is all very doable however more than a little head scratching is involved.
Of course you'll need to have a new driveshaft made to mate the TH400 transmission and the rear axle together, and if your going to keep the original shift lever on the column, it will need to be modified to work. Otherwise there are a host of aftermarket floor shifters that will get the job done.
If you do keep the original column shift the gear position indicator will need to be reworked as the "Slim Jim" transmission had a highly criticized P-N-D-S-L-R shift pattern, and the TH400 has the more standard P-R-N-D-S-L shift pattern. The TH400 also utilizes an electronic kick-down for the transmission; Lokar offers a kit to make this aspect of the conversion easier.
Bottom line: Can you mate a TH400 behind an Oldsmobile 394? Yes! Is it a good upgrade to make? Sure, although I would still lean toward adding overdrive as well. Is it easy to do? I guess it depends on your mechanical abilities, your fabrication skills and the tools and shop you have available. Would I do it? If I had my heart set on keeping the original 394, sure, I've done it. But have always second-guessed my decision to do so, as I could have more easily transplanted a 455ci Oldsmobile engine and TH400 transmission.
20

Responses to "Modern Transmission Behind an Early Oldsmobile V8 Engine"