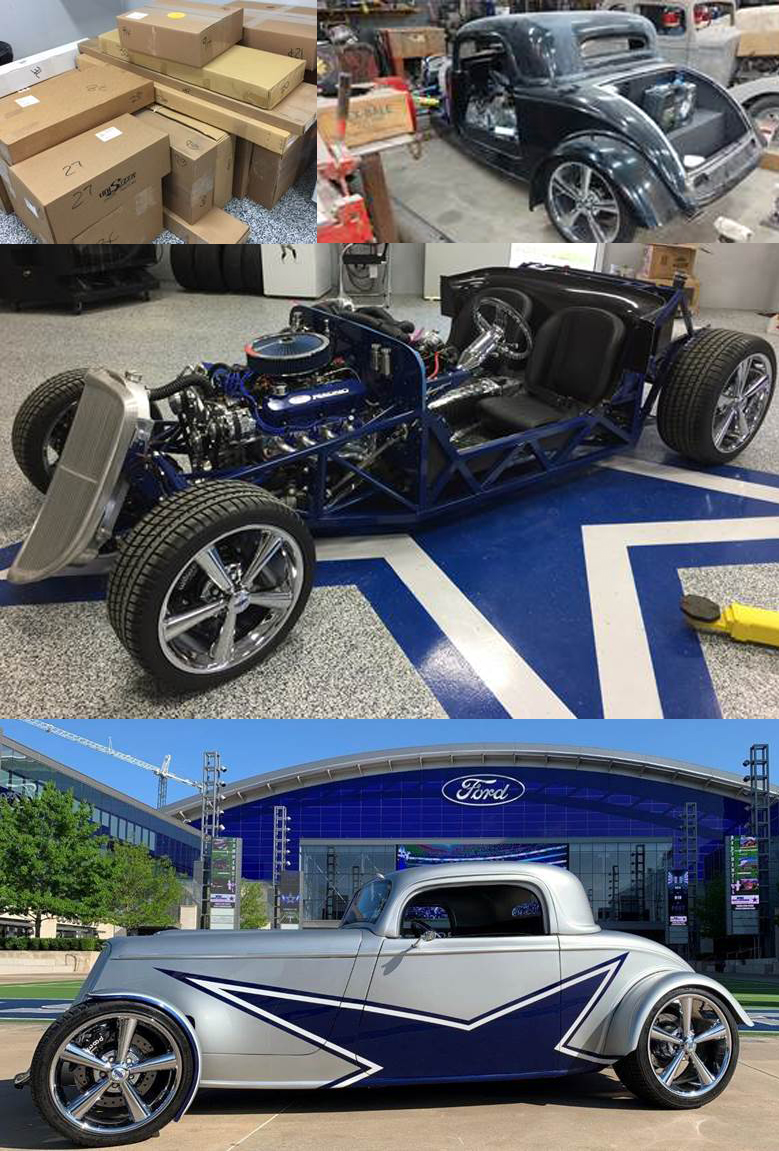 In 2016, I had just finished a shop upgrade. My previous shop was just big enough to irritate me during use, and well, do you really need another reason for a bigger shop? My wife and I had discussed several times me having a hobby, you know something to keep me busy (the good busy) during my free time. I had built RC Cars and Planes in the past and really seemed to enjoy the build process more than the "operational" process, so building something just seemed the right direction to head. The next few months were spent researching a potential hobby – now I don't know that this is how most people decide on a hobby. I would guess most typically stumble upon something they enjoy doing, however for me, this systematic approach was right in line with how I usually approach anything.
After my research, there were (3) options that made the short list. First, a Homebuilt Helicopter Kit. Now I am just going to let that sink in for a minute, before I tell you, that was never truly an option at all – as I believe my wife's exact words were "not NO, but HELL NO!"
The second option was doable as it fit the budget, it was a build, but when I thought about the use and functionality of a Homebuilt Hovercraft Kit, it still seemed a bit outside the scope.
The final option (and the option I decided on) was to build a Kit Car.
Now I consider myself average with regards to intelligence, mechanical and technical aptitude. I never was a "Gear Head" growing up, but I always admired those that could look at the front end of a car and tell you exactly what make and model it was. I did, however, have several friends that were "car guys" and of course they came with friends that were "car guys" too. Here is what I knew going into this, if I were left to take on a project of piecing back together an old, salvaged vehicle with an engine that may or may not work and wiring that might or might not be good and a suspension that may be suspect – I would fail miserably and then have to sell the vehicle for cents on the dollar in only a few years. This was not an option for me, as this hobby was going to be a significant investment for my wife and I.
During my research I had come across a Kit Car Company out of Wareham, Massachusetts – Factory Five Racing. When I dug into it a bit more, they really offered a product that checked all the boxes for me. It was relatively affordable – most of their kits were around $20K. It was comprehensive – the kits included everything needed except for the Engine, Transmission, Wheels and Tires. They offered a manual (really a guide, but I would need all the help I could get). They offered great technical support, a vast and knowledgeable online community forum and to top it off, there was a three-day build school you could attend! For me, there was only one last box that needed to be checked…did they offer a style kit that appealed to me? I have always had a soft spot for the old Fords…the High Boys and T-Buckets – so the '33 Hot Rod offered by FFR bit me good!
I am a visual person, so prior to me even pulling the trigger on the kit, I had already come up with my vision for the car. I have also always been a huge Dallas Cowboys fan, through good and bad as long I can remember, so what better visual theme to move forward with on a custom Hot Rod than a Cowboys theme, right? I also never intended for the car to have fenders – in fact I absolutely hated the look (more on this later)! In January of 2017, I ordered my kit from FFR, it was slated for deliver late March. Luckily enough, a '33 Hot Rod Build School was being offered in early March, so I also signed up for that. The destination was now set and the journey had begun!
Starting mid-March, I began receiving my kit, let me rephrase that…I received a box of brakes, a crated rear axle, an uncoated chassis, (10) oversized, fiberglass body panels and (29) boxes that contained over (1500) individual components – it was like Christmas in Spring!
I would spend the next (3) days doing inventory to make sure I received all components, but then the mock-up quickly began. I intended to build up as much of the car as I could prior to sending the chassis out for powder. I began with the brakes, front control arms, suspension (both front and rear), the firewall, steering rack and shafts. I plumbed the brake and fuel lines and fit-up the fuel tank and the floor panels as well. Then disassembled it all before sending the chassis out for powder.
Once I received the chassis back from powder, the assembly process began again – just at a much slower pace. The next several months were spent working toward getting the car ready to drop the engine in. Again, trying to keep things simple, I had decided to go with a turnkey, Ford 302 Small Block from Engine Factory, along with a Ford AOD Transmission from Monster. There was plenty to do, not only did I need to get all the mock-up items back on the car, but wiring, gauges, fuel and brake connections, not to mention prepping the engine and trans. In October of 2017, with the help of a couple friends, we dropped the engine and transmission into Star Mobile One – several months of prepping led to about thirty minutes of install.
The next challenge would be the first start for the engine and due to some health issues this wouldn't take place for almost nine months. During this time, the radiator, grill, hoses all needed to be installed. All wiring terminations needed to be made and checked and a finally run through of a safety checklist before first crank. In July of 2018, after filling the tank with three gallons of fuel, the car took its first breath! I spent the next several months getting the car ready for what would be the final step for me – go-carting. The plan had always been for me to take the car to the go-cart stage and then turn it over to a professional to do the body fit-up, paint prep, paint and final assembly. Two prior back surgeries helped me make this decision. The next four months were spent finalizing some smaller details. I wrapped the exhaust, installed the accelerator pedal, kick-down cable, trans tunnel, seats and did some final heat shielding of the interior. I had also pulled the trigger on a set of Cragar SS and some Michelin rubber for the car.
In early November of 2018, Star Mobile One took its maiden voyage. All things went well, for the most part. I only went about half of a mile down the road and turned around. I hadn't been able to get the fan to engage just yet, so I didn't want to get the temp up too high. I did have some smoking of the exhaust wrap that caused bit of a pause and I left the e-brake engaged the entire drive, but I called it a success! What I will share with you is that I drove back into my shop, turned the ignition off and my upper radiator hose blew off! Thankfully no one was near, but it did make quite a mess in the shop and on my new engine. The kit came with a stainless-steel hose that uses the rubber size reducers to allow for a universal fit-up. I am sure I just didn't tighten it enough, but after that mishap, I switched it out for a solid rubber hose the proper diameter. Now I believe I had previously mentioned that I never intended to put fenders on this car – that all changed after I go-carted and returned back to my shop just to spend the next twenty minutes vacuuming ALL of the rocks out of my front seat – a sad ending to such a great day!
The car was not due to Kory and his team at 121 Rod & Restorations in Trenton, TX until the end of February, so I did have a little time to button some things up. The fuel pump had quit working, so I had a warranty issue there. I needed to adjust my ride height and perform a shade tree alignment on the car. I also had more heat shielding, wrapping and wire organizing to do. I needed to decide and order the dreadful fenders as well as do some work on few custom elements of the vehicle. During this time, I also had the opportunity to pay my experience forward. A member of the forum, that happened to live locally, reached out to me. He was contemplating a build as well and asked to stop by to see the car. Since that was exactly how things started for me, I couldn't pass on helping out and now, Larry is finishing his '33 ("Heidi") in the next week or so!
At the end of February, Kory came out and picked the car up. Over the course of the next nine months, he would take it through the last leg of its journey. Here are just a few of the mods that we threw into the mix…
Headwind LED Headlights in lieu of the 7" standard kit lights
'39 Ford Teardrop Taillights instead of the kit ovals
One-Off, 3D printed Hood Vent
Star-Shaped Exhaust Tips
Shaved Door Handles & Locks
Wireless Door & Hardtop Contacts
In August of 2019 things started getting very real as all the modifications had been completed, the body panels had been fit-up and the primer and sealer were going on for the final prep for paint.
The Switchblade Silver base was next, followed by the Star layout – Kory confirmed the day of masking, if I still wanted a star on the car! I was ecstatic to see the true colors of my design on this car, while others were still questioning my sanity. The next few weeks would include the interior being completed by Leo's Upholstery in McKinney, Texas, then back to 121 for final assembly. Still much to do, but the end was in sight. I had also designed how I wanted the interior laid out as well. I went with a marine grade vinyl instead of leather – to hold up to the Texas sun & added just a splash of pigskin to the armrest just to set things off. It was then back to 121 for the final assembly. The battery needed to be repositioned, the hardtop needed to be installed, the gauges, power windows, AC vents, the grill needed chroming, the stereo needed to be installed, everything had to be put back on – one more time. Then a final sanding and buffing. On November 24, 2019, Star Mobile One came home!
Since arriving home, I continue to make minor tweaks here and there. In December it was featured in two months of a Factory Five Racing focus calendar. In February of 2020, Star Mobile One made its car show debut at the Dallas Autorama and won second place in its class. March, it was featured on the cover of a local Hot Rod Magazine that was shot out at the Dallas Cowboys Training Facility and it is currently slated to appear in a local television stations sports promotional for the upcoming NFL season. I am only a few miles away from 3700 miles since November of last year, so all though this car has made a few trailer trips, it is definitely NOT a "trailer queen." People constantly ask me, "what's the end game?" To which I answer, "Build a bad-ass hot rod and enjoy the hell out of driving it"!
Special Thanks to:
My Wife – Jennifer O.
Brother – Larry C.
Fellow Builders – Don S., Bill P., Larry C., & ALL others on the Forum
Factory Five Racing
121 Rod & Restoration
Leo's Upholstery
"The Pit Crew" – Adrian M. & Jorge R.
Linden & Chris C.
Jamie O'Pelt