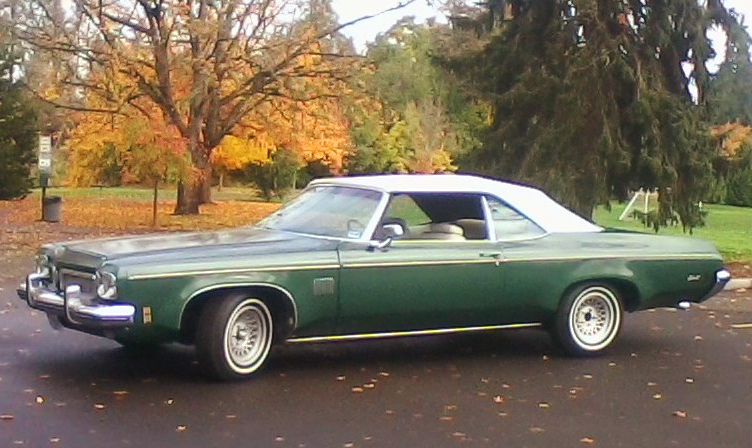 3 years ago, I had been looking for a convertible. Originally was looking for a '64 Tempest, turns out almost all of them had been cloned into GTO's. Then one day my grandson was visiting from Georgia and needed a haircut, we drove downtown, and on the way back saw this Oldsmobile on a car lot. It hadn't been there when we first drove downtown. We stopped, examined the car, test drove it and wound up purchasing it.
Upon arriving home the first thing we did was tune it up and replace all the fluids. Next I rebuilt the convertible mechanism, which included replacing all the bushing. This was soon followed by having a local auto upholstery shop install a new convertible top. I replaced the door pins, fixed the speedometer, converted the R12 a/c to R134, replaced the defunct radio with a new "retro" Olds radio, spent weeks removing the small dings in the body, all the while using it as my daily driver during good weather. I also rebuilt all four electric window activators, replaced the center link, front disc pads, all four slaves cylinders and the master cylinder.
The Olds has proven to be a very reliable driver, and as long as it isn't raining I use it whenever I leave the house. Hoping to have it repainted, the original Olds Medium Green this winter. The interior is in good shape and is all original. We have 3 Labrador retrievers, a yellow, a black and a chocolate. I don't know who has the most fun driving around with the top down – my wife and I, or the dogs. Looking forward to driving Route 66 next year since my wife just retired.
Bob Cotterell