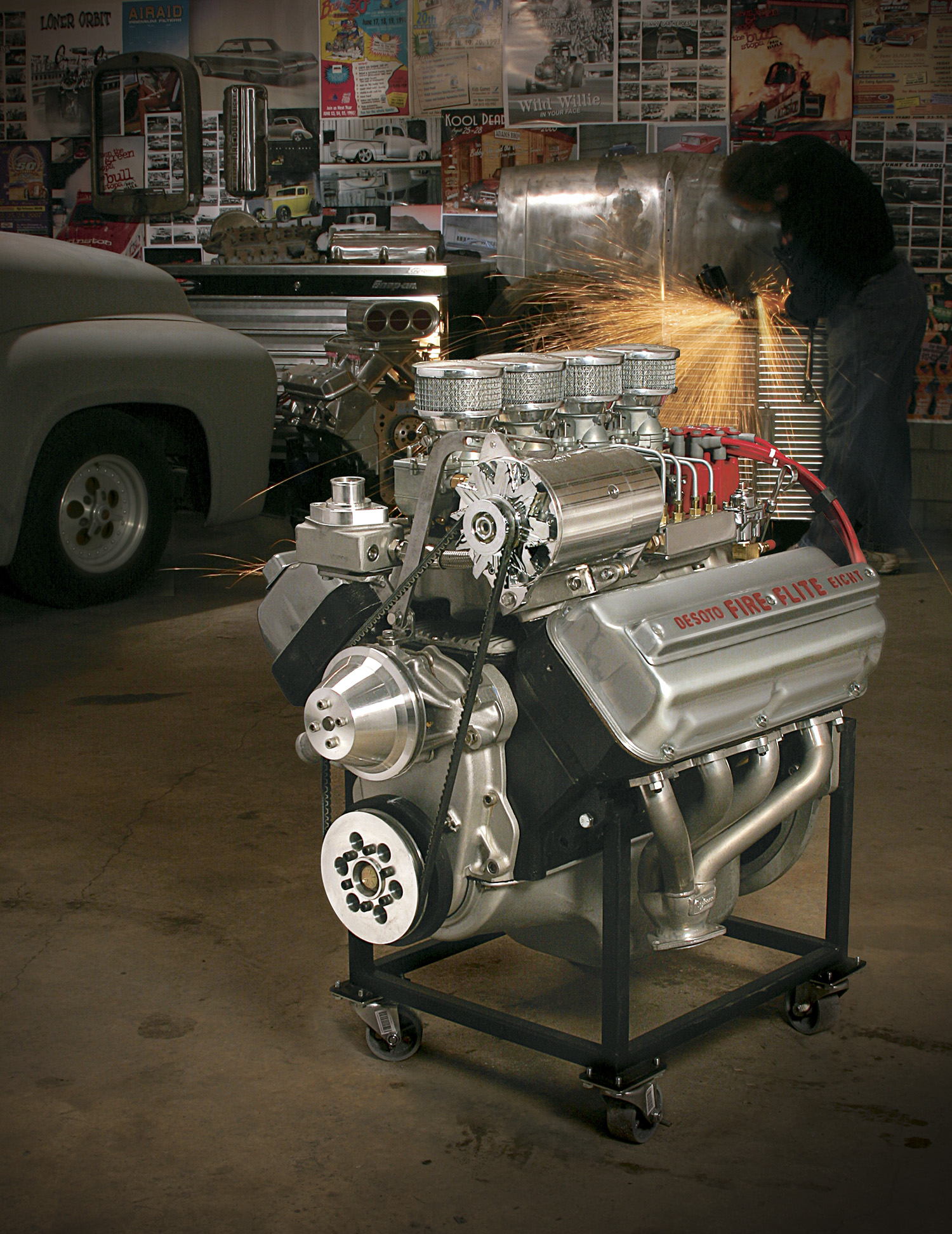 Having built my share of street rods and customs over the years, I'll be the first to admit my engine of choice was most often a small-block Chevrolet. Its compact size, availability of inexpensive performance parts, and power potential made it an easy choice. These simple facts make it the go-to choice for thousands of other car builders as well.
Times change, and although the small-block Chevy has not lost its luster, the thought of building a traditionally styled, open hood hot rod with this proven power plant just seemed to destine the project to look like so many others.
The decision was made to build a vintage engine, incorporating some traditional speed parts as well as some newly reproduced and freshly engineered pieces. For this project, we were less interested in all-out performance as much as we wanted a solid, reliable engine that looked good, ran well on regular gas, and offered good performance even with thousands of road miles under its belt.
In short order, our focus shifted to building an early Hemi engine. The Chrysler Hemi engine has become legendary to most racing enthusiasts. Its hemispherical design combustion chamber increased the volumetric and thermal efficiency while a low surface-to-volume ratio minimized power loss due to combustion chamber deposits. Chrysler did not invent the Hemi; in fact, the design dates back to the birth of the automobile when it was deemed too difficult to mass produce.
During the late '30s, Chrysler engineers experimented with combustion chamber design; their tests soon confirmed the hemispherical design yielded the most power on low octane fuels. The first Chrysler Hemi engines were produced during World War II, when the design was incorporated into V-12 tank engines. It was seen again later in the development of a V-16 aircraft engine. After the war, Chrysler engineers went to work developing a more compact version of their Hemi design, with the direction from management it should be built to endure 100,000 miles before any service. This was a real milestone.
Chrysler unveiled its new Hemi V-8 in the fall of 1950 for availability in the 1951 model year, producing 180-horsepower and 312 ft.-lbs. of torque with a 7:1 compression ratio on 80-octane fuel. While these numbers seem low by today's standards, it didn't take Chrysler engineers (or racers) long to determine there was a lot of untapped power potential. Improved flow, increased compression, and more aggressive camshaft design woke this giant to take its rightful place in racing history.
Chrysler shared their new design with their DeSoto and Dodge divisions, although the similarity ended there. Like their cars, the DeSoto design was smaller than the Chrysler, and the Dodge design was smaller yet. These lower-displacement versions earned them the nickname "Baby Hemis."Despite their smaller displacement, their lighter weight gained a following on the racetrack as well, though always in the shadow of its bigger sister.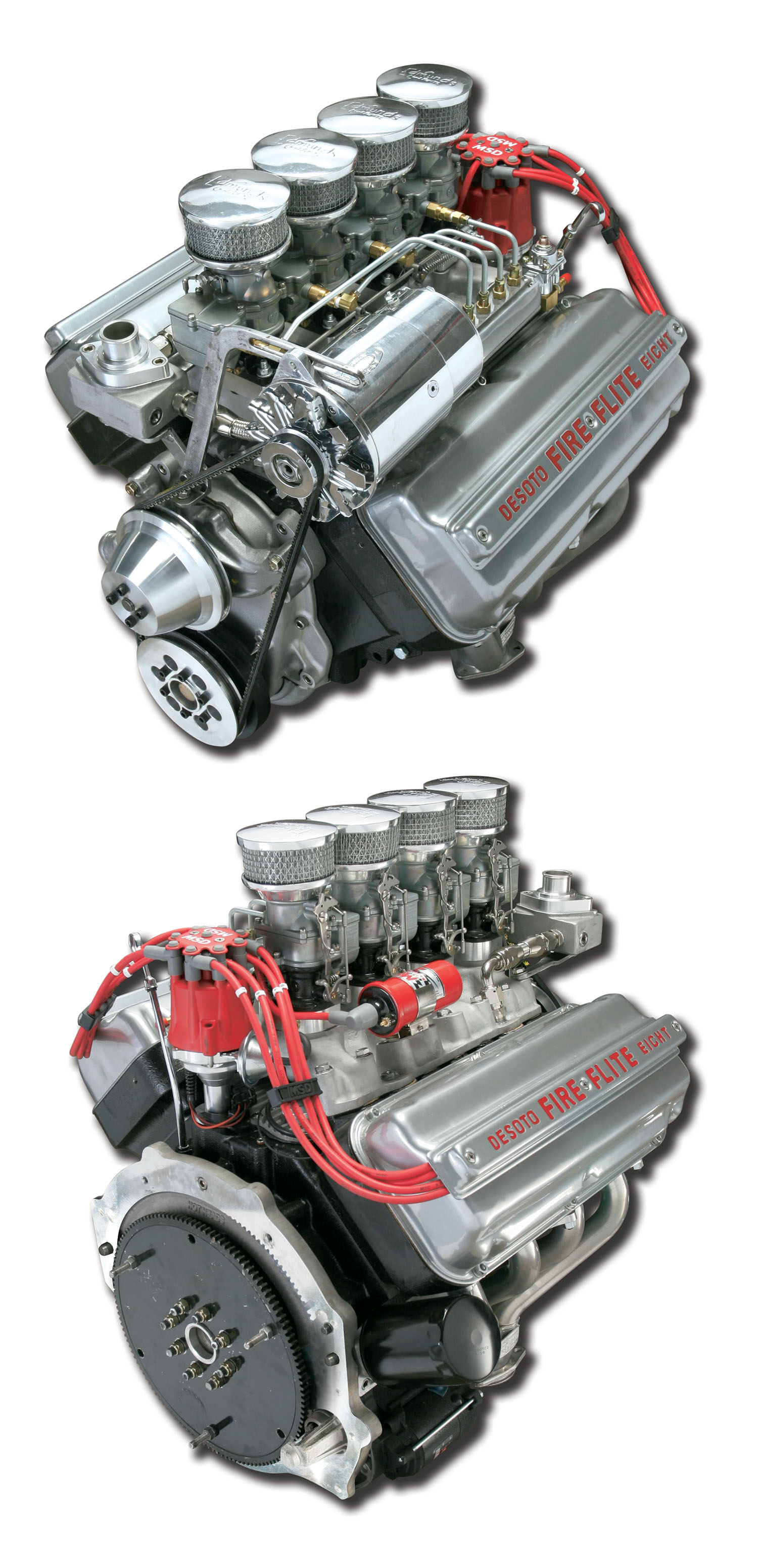 DECISIONS, DECISIONS…
With the choice made to build an early Hemi, we then decided on the DeSoto, in part due to its smaller overall dimensions (making it a little easier to squeeze between the rails of an early '30s car) and somewhat because of my personal fondness for DeSotos. In our research, many were quick to point out the more popular Chrysler was more expensive to buy, and the DeSoto would be more expensive to build due to its rarity as a hot rod mill. This would apply if our plans were to build an all-out performance engine. With somewhat milder intentions, the buildup expenses were fairly comparable with the only exceptions being intake manifolds and camshafts.
The DeSoto Hemi first appeared in '52 with a 276-inch displacement and only 7:1 compression, producing 160-horsepower and 250 ft.-lbs. of torque. In '55, bore size was increased, resulting in a displacement of 291 inches. The early DeSoto Hemis are known as "low-deck" engines. In '56, deck height was raised to allow for greater stroke length. These "tall-deck" engines were built in '56 and '57, with displacements of 330, 341, and 345ci. The '57 345-inch DeSoto two four-barrel engine was the largest ever produced, and achieved a remarkable (for its day) 345-horse and 360 ft.-lbs. of torque, making it one of the earliest V-8s to achieve the one-horsepower-per-cubic-inch benchmark in a production engine.
The decision was made to seek out an early "low-deck" DeSoto engine, primarily due to its smaller overall size, and the greater availability of vintage performance intake manifolds.
THE TREASURE HUNT
After searching online, through local sources, and friends for a few weeks, We discovered an early 276ci DeSoto Hemi resting in a field in North Dakota. Even though the engine was stuck, the air cleaner was still in place and there was no sign of water in the oil, assuring this could be a good bet for a rebuild.
Returning home with the Hemi, we tore into it likes kids on Christmas. Soon it was a bare block, and our gamble had paid off. The inside was fairly clean with only a little corrosion in a couple of the cylinders and one slightly worn rod bearing journal. The true test would occur later when we delivered the engine to TPIS/Cottrell Racing Engines for thorough cleaning. Soon after, we received the call that everything checked out, and we were ready to proceed.
BEGINNING THE BUILD
With a solid core in hand and a good idea of what we wanted to achieve, we contacted Bob Walker at Hot Heads Research & Racing, Inc. Bob's advice and the parts he builds are what keep these early Hemis viable and competitive today. We set a plan to utilize Hot Heads' timing cover/ water pump conversion, as well as their auto transmission adapter. As a one-stop shop for early Hemi parts, a host of other parts were also sourced from Hot Heads (see sidebar) that would guarantee performance and reliability.
Armed with the measurements from the engine shop, we were prepared to order the cam, rod, and main bearings as well as the valves and lifters. The main bearing journals cleaned up with a .010-inch grind, while the rod journals required a .030-inch grind. All of the valves were candidates for replacement, and combating the effects of unleaded gas required stainless steel exhaust valves. Egge Machine Company had everything we needed to get the job done. This comes as no surprise to vintage engine enthusiasts, as Egge is always an excellent source for hard-to-find rebuild parts for older engines.
Stock replacement, low-compression pistons are readily available. We had already decided to modestly boost the compression a couple points to take advantage of the Hemi's true nature. We contacted Ross Racing Pistons to build a set of 9:1 compression forged aluminum pistons for this DeSoto. As we discussed the project's needs, they recommended using a later model 273ci small-block Mopar piston ring since they shared the same bore size.
We selected Total Seal's "TS1" piston rings. They feature a ductile iron, moly face-coated top ring with positive torsional twist, and a cast iron tapered-face "gapless" second ring for improved seal. These rings are proven performers in a wide range of mid- to high-compression engines, as well as mildly boosted applications.
BUMPS IN THE ROAD
With any project, there are always a few unforeseen problems. The first was when our camshaft was deemed unfit for regrinding. The camshaft and the intake manifold are the two weak links in building a DeSoto Hemi engine. With no new cam cores available, we had to find a good used core. This problem is compounded by the camshafts not being interchangeable between "low-deck" and "tall-deck" engines. The lifter bores were moved to maintain proper valve train geometry in the "tall-deck" engines, and swapping the cams between the two will advance cam timing on one bank of cylinders while retarding it on the other. When Internet searching and swap meet scavenging yielded no results, a desperate call to Chris Nielson at Nielson Vintage Racing Cams paid off.
Chris had a camshaft core on the shelf, and after some discussion we agreed on a cam regrind with .420-inch lift and 264 degrees of duration (208 degrees at .050), with 114 degrees of lobe separation. This was the limit on a regrind for lobe separation. The stock "low-deck" cams had a full 120 degrees of lobe separation, great for low-end torque and idle smoothness, but not-so-good for big horsepower numbers. Chris machined the nose on the camshaft to accept his cam gear replacement. The shortened nose is necessary to fit inside the Hot Heads timing cover.
Our next pitfall was a bent rocker shaft. However, rocker shafts are interchangeable between DeSoto models and less prone to failure, making them easier to locate and certainly more affordable.
The time had come to address the intake manifold dilemma. After searching for awhile, we located an early four two-barrel Weiand manifold, and given their rarity, we jumped on it. This intake manifold works best with direct linkage, as it is prone to fuel distribution problems with progressive linkage. Vintage Speed recently released its version, and while it resembles the early Weiand, internally the new design includes an open plenum that will operate with either direct or progressive linkage.
MOVING ON UP
A set of "Marshall Since '62" one-inch spacer blocks gave us a place to tap vacuum ports rather than modifying the vintage intake manifold. These CNC-milled blocks made short work of the problem.
Friends argued against using multiple Stromberg carburetors, claiming they're prone to leaking and uneven performance. The reintroduction of the Strom-berg 97, with all of its improvements, made the decision easy. The quality and attention to detail is second-to-none.
Reproduction Edmunds Custom air cleaners from Vintage Speed topped off the 97s. Vintage Speed offers a full line of multi-carb parts and linkage, like the direct linkage we used on this project.
A late-model alternator on this engine would distract from its vintage style. Fortunately, the folks at Powermaster Motorsports recognized this, their PowerGEN alternators are fashioned to have the look of an early generator, but contain a modern one-wire alternator. Currently available in Ford and GM styles, the GM "long" style is less than a half-inch longer than the original Mopar. A new lower generator bracket was fashioned from a piece of 11⁄4 x 1⁄4-inch bar stock. The new bracket serves double-duty as a support bracket for the Moon Equipment fuel block as well.
Delivering spark is an MSD Pro-Billet drop-in distributor, designed for a small-block Mopar. The distributor shaft is approximately ¼-inch shorter than the original DeSoto distributor. Using a longer intermediate shaft, offered by Hot Heads, made the distributor conversion possible.
COMPLETING THE BUILD
Future plans call for a lot of street miles on this engine, so backing up the Hemi will be a GM automatic overdrive transmission connected using one of the Hot Heads adapter kits mentioned earlier. Hot Heads wisely engineered the adapter to accept a common small-block Mopar starter motor. The small yet powerful MasterTorque starter by Powermaster is well equipped to turn the Hemi over, while its compact size will aid in clearing other components in even the tightest hot rod frame.
The exhaust duties are handled by Sanderson Headers. Their tight-fitting block huggers fit close to the block and oil pan, making them an easy fit around most frame and steering components without sacrificing performance.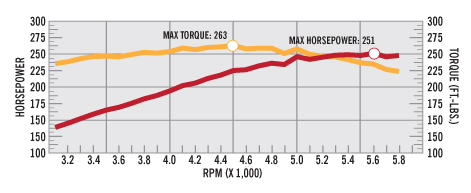 ALL FIRED UP
The time had finally come to breathe some life back into the old Hemi. The silence was broken when the starter engaged, and in a moment the Strombergs teamed up to awaken the vintage Hemi. The rumble of the exhaust filled the room with a song that had not been heard for years.
The stock .045-inch carburetor jets had been pulled in favor of .031-inch parts, after a couple adjustments we finally settled on .039-inch jets. At last, the moment had arrived to truly determine what our Hemi was capable of. Builder Clay Witt at Cottrell Racing Engines pulled back the dyno throttle and all four Strombergs stood wide open. The old Hemi sprang to life, and as the power numbers rolled up the screen, the few modifications we made paid off with a full 91-horsepower gain over the stock performance numbers. The new/old DeSoto made 251-horsepower at 5,600 rpm, and 263 ft.-lbs. of torque at 4,500 rpm.
There's little doubt more power could have been squeezed from the old Hemi. Higher-compression pistons, a more aggressive cam, and improved head flow would all contribute to bigger power numbers. But, we accomplished what we set out to do; the power and efficiency of the engine were greatly improved while maintaining excellent street characteristics. The Hemi's reliability and serviceability had also been upgraded with the addition of more modern components, while maintaining a truly vintage flavor.
Still, I can't help but wonder what the maximum potential is of these early Hemi's. There's no doubt it will provide food for thought as I gaze at the recently acquired, crusty 341ci DeSoto Hemi now occupying a corner of my garage. For now, I look forward to finishing up the rest of my traditional hot rod project. It's a good feeling knowing the once-grungy, locked-up DeSoto Hemi that was pulled from a field in North Dakota will now help set my street machine apart from the ordinary, while delivering years of trouble free miles.
ALL ABOUT THE PARTS
INTERNAL ENGINE PARTS
EGGE MACHINE COMPANY
Rod/Cam/Main Bearings, Intake/Exhaust Valves & Lifters
Established in 1915, Egge Machine Company is known worldwide as a vintage engine piston manufacturer, supplier of internal engine components, complete engine rebuild kits, and nostalgic performance products. We knew we could count on them for the stainless exhaust valves, when no one else had them.
FEDERAL-MOGUL
Complete Rebuild Gasket Set
The Fel-Pro complete rebuild gasket set came complete with all of the gaskets we needed to assemble the old Hemi.
HOT HEADS RESEARCH & RACING
Main/Head/Rod Bolts, Adjustable Pushrods, Valve Springs, Intermediate Shaft & Bushing
We used many quality parts from Hot Heads. Their adjustable pushrods are a must, if you're using a reground camshaft. The extended-length intermediate shaft allows the use of a small-block Mopar distributor. Completing a fresh build with new bolts only makes good sense; there is no way to tell just how many times the old ones have been stretched.
NIELSON VINTAGE RACING CAMS
Reground Cam, Cam Gear

Chris Nielson was more than helpful keeping this project on-track. The unavailability of new cam cores for the DeSoto Hemi is still a weak link, however his expertise in machining existing cams is a viable alternative. As of the writing of this article, Chris informed us that work is in progress to develop new cam cores for the DeSoto Hemi.
ROSS RACING PISTONS
Forged Aluminum Pistons
Cast aluminum pistons are widely available for the DeSoto Hemi although they are only available in stock compression ratios. Our desire to raise the compression ratio from the stock 7:1 lead us to the folks at Ross Racing Pistons. They were able to build a set of pistons to the desired compression ratio with improvements to the ring and wrist pin design.
TOTAL SEAL INC.
Piston Rings
Total Seal's TS1 piston rings are proven performers in a wide range of mid- to high-compression engines, as well as mildly boosted applications. They should be more than adequate for our Hemi build.
OTHER PARTS USED
VINTAGE SPEED
Air Cleaners
Vintage Speed offers a full line of custom air cleaners, custom fuel lines, fuel blocks, rebuilt carburetors, complete show-polished carburetor and intake systems, and reproduction vintage intake manifolds. We chose these well-crafted reproduction Edmunds Custom air cleaners.
WEIAND
Remote Thermostat Housing
Many early Hemi intake manifolds do not incorporate a thermostat housing into the casting. We used this Weiand unit paired with -10 AN line and fittings with a Hot Heads water neck.
VINTAGE SPEED
Carburetor Linkage
Due to known fuel distribution issues with our manifold, we chose direct 4×2 inline linkage.
HOLLEY
Fuel Pressure Regulator
Like their predecessor, the new Stromberg 97 carburetors require relatively low fuel pressure. The Holley fuel pressure regulator kept our fuel pressure at a constant 2.5 psi.
MOONEYES
Moon Fuel Block
A fuel block ensures even distribution of fuel to all carburetors. We mounted ours in series with the regulator and pressure gauge.
POWERMASTER
PowerGen Alternator
Building a vintage-style engine requires attention to all of the details. The PowerGEN alternator looks like it belongs here. Its simple one-wire hookup and 75-amp output will give our Hemi all the power it needs for years to come.
HOT HEADS RESEARCH & RACING
Timing Chain Cover
The Hot Heads timing chain cover dramatically reduces the weight of the engine, shortens the overall length of the engine, and serves as an adapter to enable the use of a readily available short-style small-block Chevy water pump.
HOT HEADS RESEARCH & RACING
Harmonic Balancer & Pulleys
The Street Performance harmonic balancer is manufactured specifically for the early Hemi and is designed to work perfectly with their pulleys, timing chain cover, and small-block Chevy water pump.
MSD IGNITION
Distributor, Coil & Wires
Their proven quality and performance made them an easy choice for our build. While their Ready-to-Run Pro-Billet is actually designed for a small-block Mopar, when paired with the Hot Heads conversion intermediate shaft, it makes the perfect solution. Working together, the MSD Heli-Core wires and Blaster 2 coil delivered real fire-power to the old Hemi.
STROMBERG CARBURETOR, LTD.
New Stromberg 97 Carburetors
Manufactured in England, the new Stromberg 97 carburetors are exact replicas of the original, only better. The problems inherent in the original design have been fixed and the overall quality of these carburetors is just amazing! On the dyno, these carburetors performed every bit as good as they looked and were just as easy to tune.
WEIAND
Intake Manifold
Certainly not an off the shelf item here. The good news however, is Vintage Speed is now reproducing a version of this proven performer.
MARSHALL SINCE '62
One-Inch Aluminum Carb Spacers
These carb spacers improved performance and provided a perfect place to tap for vacuum without having to compromise our vintage manifold.
SANDERSON HEADERS
Block Hugger Headers
Sanderson has long been the source for headers that will fit even the tightest chassis. The "DD5" header with 11⁄2-inch primary tube size and 21⁄2-inch collector size, gave us solid performance.
POWERMASTER
Gear Reduction Starter
Every Powermaster MasterTorque starter is dyno tested and proven right from the factory. With a 4.4:1 gear reduction ratio, it's a guarantee it'll turn over the old Hemi for years to come.
HOT HEADS RESEARCH & RACING
Transmission & Oil Adapters
Finding solutions is what they do at Hot Heads. Their line of transmission adapters is no exception. A full-radiused, hardened aluminum adapter, crank hub index, and flex plate, make short work of mounting our Hemi to most popular transmissions. Their spin-on oil filter adapter removes the old leaky canister type and replaces it with an easy-to-find Ford/Chrysler style spin-on filter.