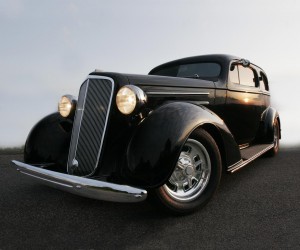 Master 2-door Coach
Mark Simpson
I have had this car for nearly 25-years, it started as a clean, all original car that had a prior amateur restoration done to it. The body was straight, and rust free, making it a solid foundation for building a quality street rod. I was drawn to the '35, because it was the only year and model that Chevrolet offered suicide doors. The build took nearly 9-years, chiefly as time and money permitted, although over the years since, it has had additional changes and modifications.
Currently the car has been chopped 3-inches and the outside door handles have been shaved. Powered by a GM crate ZZ383 engine, that is topped by a Barry Grant 6-Shooter. Together this combination made 428Hp on engine dyno. Backing up the engine is a GearStar 4L60 transmission and 9-inch Currie rear axle with 3.50 gears. Replacing the front suspension is a Heidt's independent front suspension, and Art Morrison 4-bar suspension out back. Braking is accomplished with Baer disc brakes on all four corners.
My favorite part of the car is the upholstery. This was my son's first car to do complete leather custom upholstery. The results are truly first-class, and there's a little more pride when attending car shows and letting fellow participants know "My son did that".
Want to share your own ride with us? Send a photo and your story to MemberRides@ClassicCarRestorationClub.com.