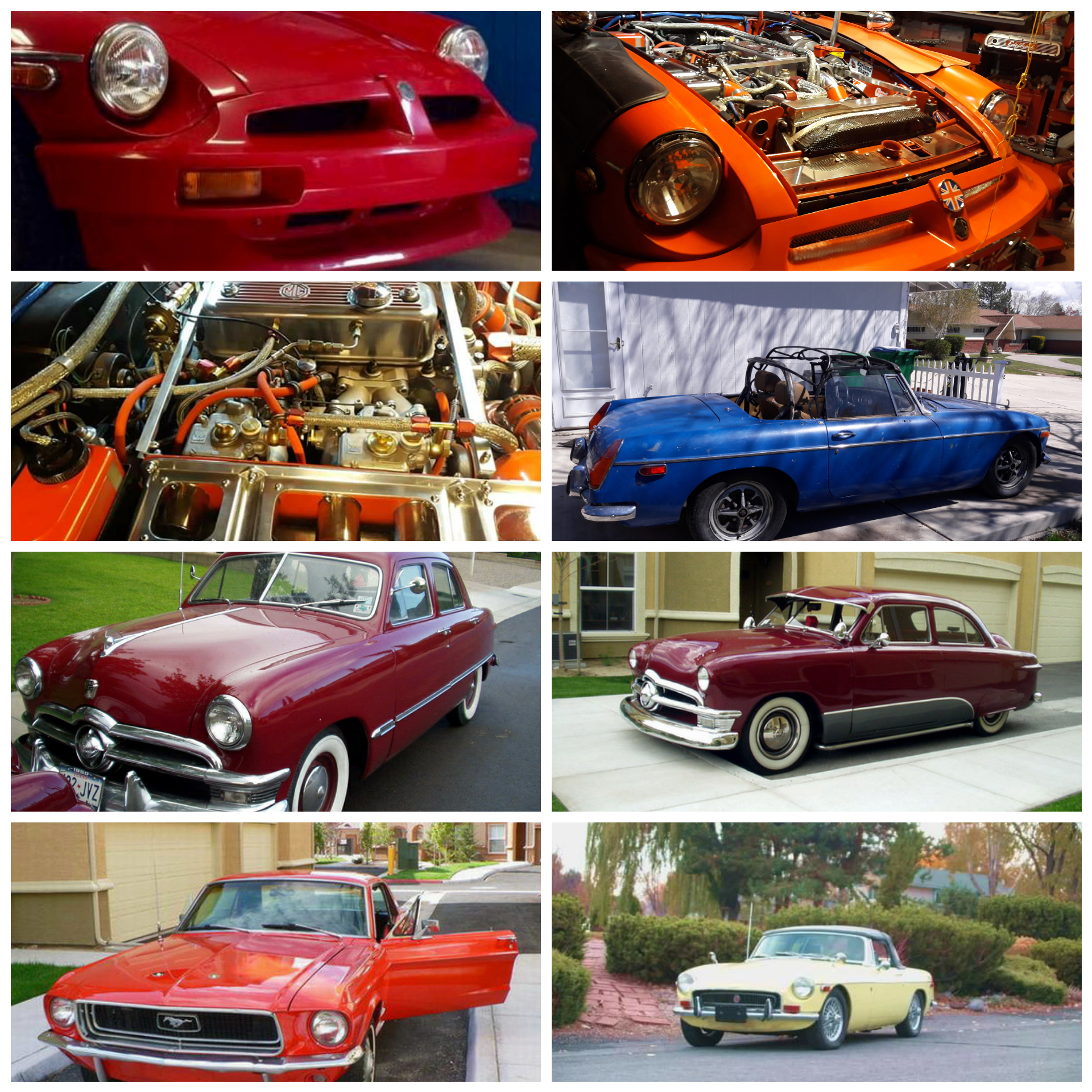 I rebuilt my first engine – a flathead V-8 on a 1949 Ford in 1959 when I was 15 years old. I drove that car for five years, then selling it as a young adult. Cars were always a big interest of mine and I usually did my own routine maintenance and minor repairs.
Some of my favorite cars during my young adulthood included a '67 Mustang and a '68 British MGB. But because of a very busy career coupled with increasing electronic complexity of automobiles, I gradually got out of the habit of working on them.
In 1978, when I was 34 years old, I bought a running 1950 Ford from the original owner and restored the body and interior. I used it for a while as my business car but the heavy use was causing a good bit of maintenance – so I parked it for over 25 years. To my surprise, with minimal work, it started up in 2004 and I sold it to a young guy wanting to get started in the classic car hobby.
I retired young at the age of 47 and spent the first 13 years in remodeling a couple of houses, building another, and several landscaping projects.
In 1994, I traded a 1984 Starcraft popup tent trailer for a 1941 Ford-Fergeson tractor (the first year Ford offered a tractor). I got it running and used it with its box scraper to dress my quarter mile long driveway and to cut firebreaks on a small farm we lived on.
During my entire adult life, I attended every Classic Car show I could find.
In 2004, my interest in Classic Cars escalated and I got the idea of restoring Classic Cars as a part-time retirement business to build up enough funds for a big, first-class project that would be a keeper.
I bought a '68 Mustang that had a good body and interior, was cosmetically ugly due to faded paint, and needed mechanical work. I painted it in the original hot orange, I swapped somebody the barely-running 289 engine for a '69 Ford Boss 302 engine, re-cored the radiator, and got the brakes working.
I drove it as a 3rd fun car about a year and sold it for twice my investment.
In 2004, in a two month period, I bought two 1950 Fords and a 78 MGB. One of the '50 Fords was a beautifully customized car that I drove as a daily driver for several years. However, I had moved from the country to a city where I didn't have room for my six vehicles and had started two more restorations, so I put it up for sale, making a 55% profit on it.
I had never entered it in a car show… the guy who bought it did and won a Best of Class, 2nd in Show, and 1st Place of Show all in the first month he owned it.
The other 50 Ford was a running partially done project. I finished it in a couple of months – when somebody I knew made an offer of three times what I had invested in it, so I sold it.
The 78 British MGB ran but had a bit of a tired engine. I took it on a 2,500 cross-country trip and decided something would eventually have to be done. First, however, I had it painted then I installed all new carpet, seat covers, and panels. Eventually, I bought a good used engine and overdrive transmission for it so I could keep using it as a daily driver while I started on a high-performance engine rebuild.
Once I pulled the engine and transmission on the 78 MGB, I bought a 70 MGB to use as my daily driver. When I was finished with the 78 B, I kept the 70 for a total of 10 years, selling it for a bit less than I'd for it… not at all regretting the slight loss.
I also bought several abandoned MG projects, kept thousands of dollars worth of parts for myself, then sold off the balance for a total net income of over $30,000 – putting the gains into a special bank account labeled "Barry's Classic Cars." Since my hobby was funded, my wife was extremely supportive as I didn't raid our personal funds for my projects.
Meanwhile, I had bought a much larger home that was over 50 years old and in urgent need of remodeling. I worked on it several years, interleaving work on the 78 when time allowed.
I was also doing projects that were important to her: remodeling our house, landscaping the yards, modernizing our ancient swimming pool, building pergolas, bulding and repairing fences, installing a solar pool water heating system, fixing things that broke, planting trees and shrubs, growing vegetables, and pretty much everything else she asked for.
A happy wife makes for a happy life!
The 78 is finished – although I keep finding additional little projects for it.
I bought this original-owner 1978 MGB, (which I've now named 'ZoooomB'), in Michigan from a couple who had used it as a 3rd summer fun car. It's always been garaged and never driven on salted roads.
I have owned it for over 16 years and use it as a retired guy's daily driver.
ZoooomB, who started with me as a nice-looking but exceptionally tired and unsporty little tourer (Britspeak for roadster or convertible) was maintained by the famous University Motors shop during her first 26 years of life (I have a thick packet of receipts).
As is obvious, I've made a few changes. It has a B-Series 5 main block. Everything else has been modified:
ENGINE DESIGN:
Engine has been designed as an integrated system over an initial 6-month research period followed by several years of additional modifications study & fabrication)
Built on a "whole systems" design concept which optimizes displacement, compression, internals strength, components balancing, fuel-air volume & flow, lift & dwell, distributor-cam tuning, spark duration & intensity, block cooling, overall heat dissipation, and exhaust pressure reduction
ENGINE INTERNALS:
Bored to 1900 cc (1950 is common; APT has gone safely to 2050)
Racing spec APT engine internals tested at 190,000 psi (pounds per square inch)
ARP fasteners
High compression 11:1 pistons
High-lift, long-dwell camshaft
Balanced crankshaft & flywheel
Heavy-duty oil & water pumps
ENGINE EXTERNALS:
Crossflow trialloy head
Oversized valves & springs
Sharpe roller rockers
Supplemental rocker oiling system
FUEL SUPPLY:
New fuel tank and pump
High-micron fuel filter from Summit Racing
Dual Weber DCOE 45 carburetors
Up to 880 cfm air-fuel intake
Cold air intake system
Dual oversized K&N air filters
Under car air rams to intake system
IGNITION SYSTEM:
High voltage DUI (Davis Unified Ignition) integrated coil-distributor
DUI distributor tuned by Performance Distributors to camshaft specs
Superconductive ignition LiveWires
Autolite racing plugs gapped at .055″
HEAT MANAGEMENT:
Oversize 19-row oil cooler
Aluminum racing radiator
Extensive heat dissipation systems
Dual hood vacuum exhaust ports
EXHAUST SYSTEM:
Exhaust manifold cooling shroud
Under car air ram to manifold
Dual thermostat-activated exhaust manifold cooling fans
Straight header
Flow-through exhaust
ENGINE COMPARTMENT:
Both dual-tone and air horns
Relocated oil filter
Oil thermostat for fast warmup
Engine compartment light bar
Polished stainless crash panel trim
Anti-vibration carbs cross bracing
Polished aluminum piping & bracing
Stainless hoses & some sleeving
DRIVETRAIN / SUSPENSION / WHEELS:
New front & rear springs
Lowered 2″ to early height
Proper rebound modifications
Prothane suspension bushes & pads
Heavy duty front and rear sway bars
Overdrive transmission
New brakes
Mini-lite style wheels (polished rims)
New narrow whitewall tires
INTERIOR:
All surfaces heat & sound insulated (firewall, floors, doors, rear cockpit)
New cut plush wool interior carpet
Upgraded black/red-piped panels
Upgraded black/red-piped upholstery
Pockets (seatbacks, panels, rear)
Bluetooth 8-speaker surround sound system with streaming & 128 Gb storage
Real rosewood dash/console ápplique
Solid rosewood door cappings and door pull mounts
Solid rosewood cup/phone holder
Moto-Lita steering wheel
Red/black MG Octagon badged chrome window cranks
Red/black MG Octagon badged walnut shift knob
Red/black-piped leather shift and emergency boot
Shift boot mounted overdrive switch
Underdash insulation panels
TRUNK:
Early-style MG Octagon chrome outline 3-piece trunk logo on outer trunk lid surface
New cut plush wool trunk carpet
Carpet on lid underside
Black & red tool and detailing bags
Black & red MG Octagon bag badges
Original jack, boot frame, & bag
Early-style MG Octagon chrome trunk logo on cut plush spare tire cover
Factory luggage rack
70s black / leather-trimmed luggage
ELECTRICAL:
Fuse blocks (2) relocated to cockpit
Underdash & door lights
Rear cockpit area light
Electrical relays on most circuits
Halogen head lights
LED tail, marker, and other lights
High-intensity LED driving lights
Halogen fog lights
Numerous additional circuits
Override switches for some devices
Diagrams documenting changes
Extra underdash quick-connects
EXTERIOR:
Painted matching front/rear bumpers
Entire car repainted
Front/rear license chrome side lights
Badging to reflect modifications
MG Octagon keyed gas cap
WEATHER-PROOFING:
Matching red Haartz soft top
Refurbished matching red hard top
New rubber seals everywhere
Tonneau and top boot cover
Thick undercoating
Front/rear MG badged mud flaps
MUCH MORE…
My next project is a 1973 MGB that I picked up for a song a couple of years ago. It's in decent shape and I've already bought most of the parts for it.
Classic Cars are fun to work on and drive… at 76 years old, I can also attest that they keep me young!
Barry Barnes