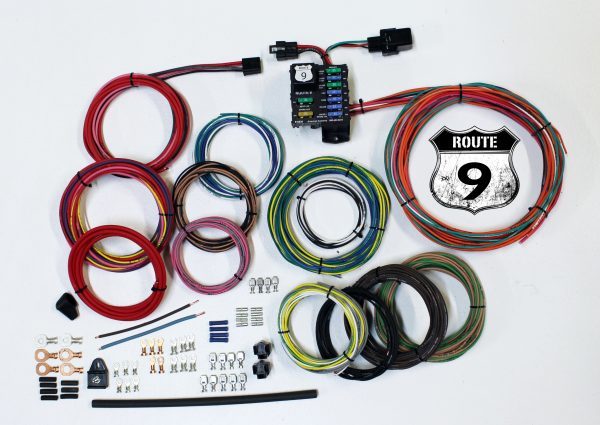 The Route 9 Universal Wiring System is the newest addition to the American Autowire growing line of universal wiring systems designed for builders requiring basic electrical system functionality. Taking the design cues from their Highway 22 and Highway 15 kits, American Autowire has developed an entry-level kit that provides a complete vehicle electrical solution in a compact, "bulletproof" package. This is the perfect wiring solution for hot rods, rat rods, or any vehicle requiring a basic, full-function electrical system. Complete, full-color instructions are included with each kit to "Make Wiring THAT Easy".
Important features of the kit include:
New compact ATO-Style fuse panel featuring Battery, Ignition and Accessory power busses.
ll high amperage output circuits incorporate the same superior spring steel reinforced terminals that are used in our Highway Series wiring systems.
The fuse panel and wire connections are labeled to identify all circuits by description and their respective fuse ratings.
Circuit wiring uses superior insulation that is color-coded and printed at 3-inch intervals with a circuit description.
The combination turn signal/hazard flasher mounted on the panel supports LED lighting for front and rear directional lights and dash turn signal indicator lights.
Horn relay mounted inline on the harness.
Steering column wiring supports any user-specified turn signal switch.
Instrument Cluster wiring is included for oil, water, fuel, voltmeter, and tachometer gauges. Wiring is also included for directional and high beam headlight indicators.
Engine wiring includes feeds for the coil, oil pressure sender, water temperature sender, tachometer, starter, alternator, and distributor.
Main power to the fuse panel and power output from the alternator are supplied through a heavy gauge feed and fusible link protection.
Extra-long wire lengths allow for custom wire routing.
Front lighting includes extra long leads that can be routed for stock or custom appearances of the headlight, parking light, and directional light leads. Dimmer switch wiring is identified. Headlight connectors and terminals are included.
Rear body lighting accommodates turn signal, license light, and brake lights with long length wires that allow for original or custom routing.
Sender lead wires are provided for electric fuel tank sender units.
Optional add-on kits are available for use with the Route 9 kit as follows:
500341 – GM headlight switch complete with connector and terminals
500456 – Dash mounted ignition switch complete with connector and terminals
500042 – Floor mounted dimmer switch
500286 – Floor dimmer switch connector and terminals
500257 – GM column mounted ignition switch connector set with terminals
500204 – GM HEI distributor ignition power connector and terminal
500205 – GM HEI distributor tachometer connector and terminal
500428 – GM Steering column turn signal switch connectors and terminals (accommodates both 3 7/8 and 4 1/4 inch connectors)
510644 – Electronic speedometer connection kit with connectors and terminals
The Route 9 Universal Wiring System is part number 510625. The Retail price will be $249.00.