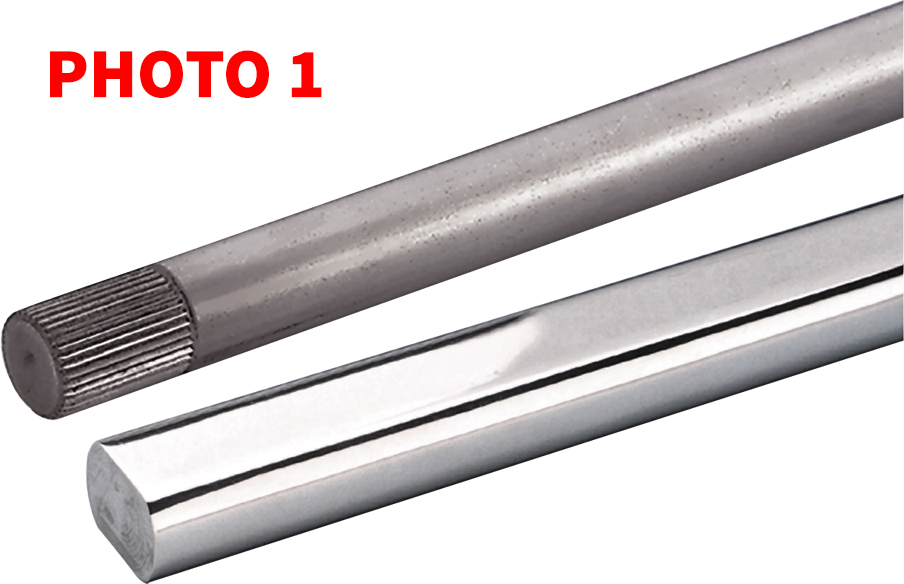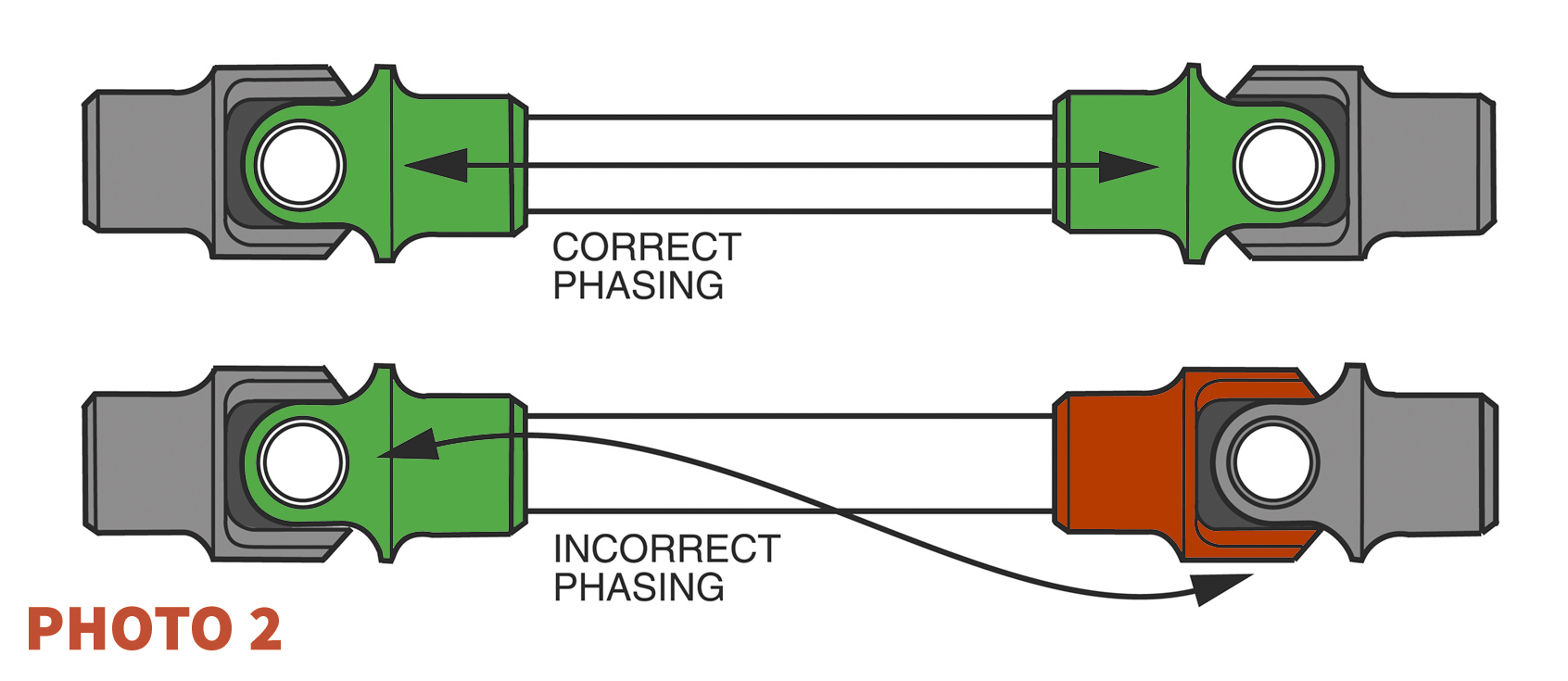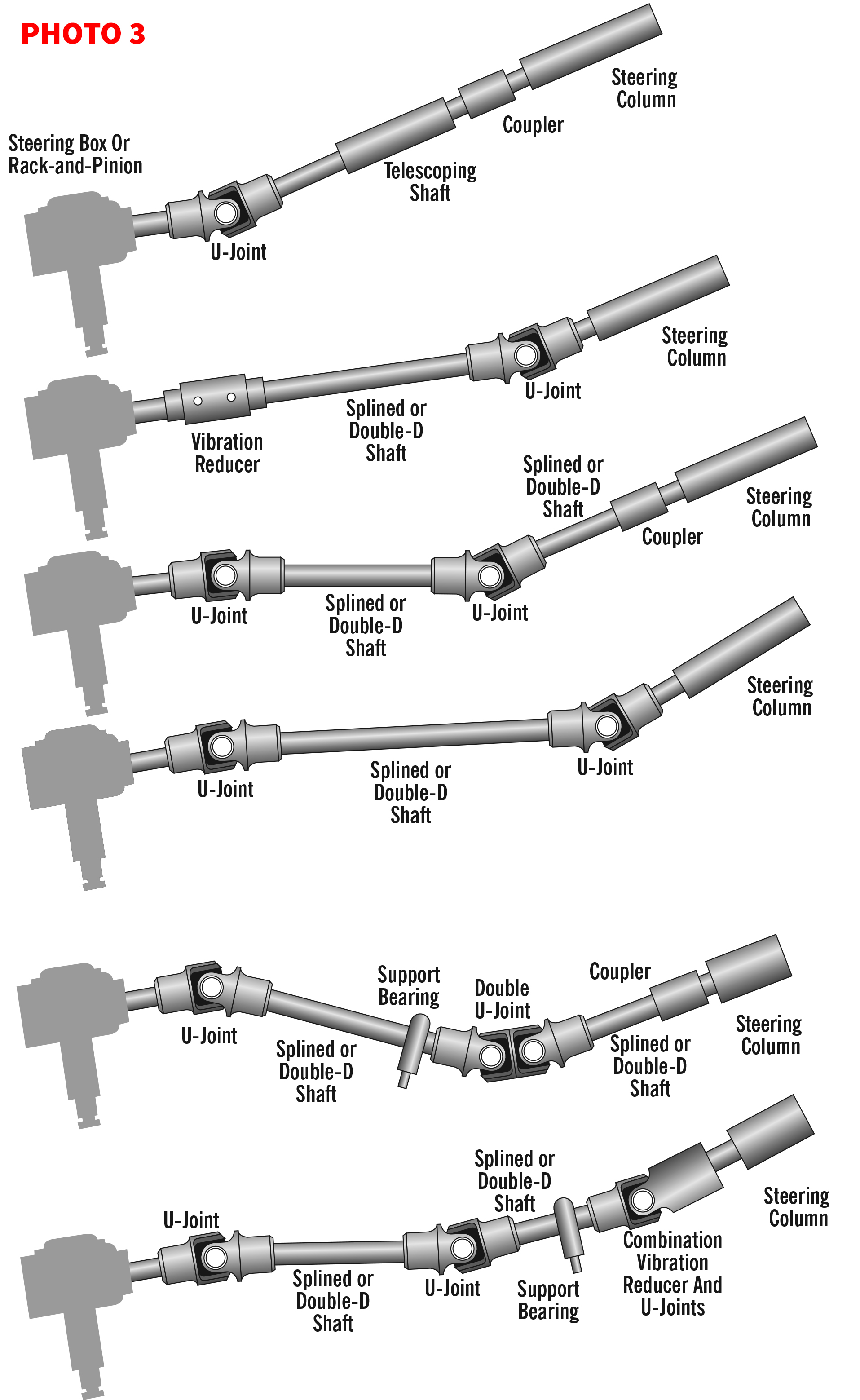 Q:
While I have owned several classic cars over the years, I am currently building my first real hot rod. The car is a glass bodied 1934 Ford Roadster with a Mustang II front suspension. I have installed a 454ci big block Chevy motor and a set of shorty block hugger headers. Needless to say, everything fits tight between the rails. Now I need to route the steering shaft, and can't figure out how to get everything connected, yet clear the exhaust. I asked a friend who has built a couple of cars and he told me I needed to install hanger bearings on each length of steering shaft and make sure I had all of my steering joints properly phased. He went on to explain it a little further but I left not really sure what to do next. Can you give me a little direction on what I need to do next?
Dave Jensen
Des Moines, IA
A
Your problem is common amongst hot rod builders; there is simply a limited amount of space between the frame rails of most 30's cars. Throw in a Big Block motor and the problem only gets worse, but like most problems there's always a solution.
Typically two types of steering shafts are used in building hot rod steering systems; they are splined shaft and double-D (photo 1). My recommendation would be to use the double-D style shaft as the joints will then automatically phase themselves. Phasing is simply the alignment of steering joints on opposite ends of the same section of steering shaft, (photo 2) they need to be aligned to ensure they'll work together and that none of the components are put into a bind.
Planning out your steering setup is an important next step. I have seen pro-builders use wooden dowels and duct tape, to mock up their systems, as the two are relatively inexpensive when compared to the cost of steel rod. Generally speaking the simpler the better, fewer joints and shaft sections are ideal but not always achievable. Support bearings are only needed if more than 2 steering joints are used (photo 3). These systems will require one support bearing for each additional universal joint. Support bearings should be located close to any additional joints to prevent them from "looping" as the steering is engaged.
Here are some important precautions you should consider when designing your system:
SHAFT SIZE
Never use steering shaft sizes less than 3/4-inch. Even a 5/8-inch shaft is 42-percent weaker than a 3/4-inch shaft diameter.
NO FLEX CABLE
Ford used a flex cable on the Pinto in the '70s even though it proved unreliable, a problem compounded in a front-heavy hot rod.
NO WELDING
While common for racing enthusiasts, many states have laws against welding on steering components. Heat transmitted to the universal joints can cause them to fail prematurely; additionally, hairline cracks in a weld can go unseen and fail under stress.
COLLAPSIBILITY
Design your system with some means of directing the energy away from the driver in the event of a collision. This can be done by either incorporating some angles in the system to deflect the column away from the driver or by using a telescopic steering shaft or collapsible column.
Finally, the steering joint manufacturers have a vested interest in doing everything they can to ensure you use their components in the manner they were designed. Check out their web sites for a host of additional products and information.
Mark Simpson
Managing Editor