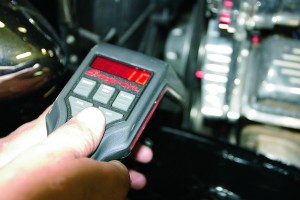 Q:
I just got an adjustable timing light, the kind with the dial on the back. I'm not quite sure how to use it.
For instance, if I wanted 10 degrees of initial timing, do I set the dial at 0 or 10 degrees? Where do I read the actual amount of ignition advance?
Keith Merchant – Denver, CO
A:
The reason these dial-back lights were made is because the 'zero' mark on the balancer is the easiest one to see. The zero mark is usually clearly cut and well labeled. If the 'zero' mark or the pointer is hard to see, clean them both before starting the test. I always use 'white out' on the balancer to make the mark clearly visible.
If you use the dial on the back of the timing light, the target is always the zero mark on the balancer. In your example, if you wanted to see if the timing was 10 degrees before top-dead-center (TDC), you'd set the dial at ten degrees on the back of the light and the 'zero' mark should be easy to see on the balancer.
If you set the dial at zero, the balancer should read ten degrees, but the "ten degree" mark on the balancer is probably small, probably dirty, and probably really hard to see clearly. It's much easier to use the dial feature, and if you do, you'll always be looking for the big 'zero' mark on the balancer to be pointed at.
Good Luck with it! I always use a dial-back timing light…in fact, mine is digital so I can just read the number on the screen on the back of the light. They really make the chore of checking ignition advance easy!
Mark Simpson
Managing Editor